Everyone at Paris Fashion Week is buzzing about Doja Cat and Kylie Jenner.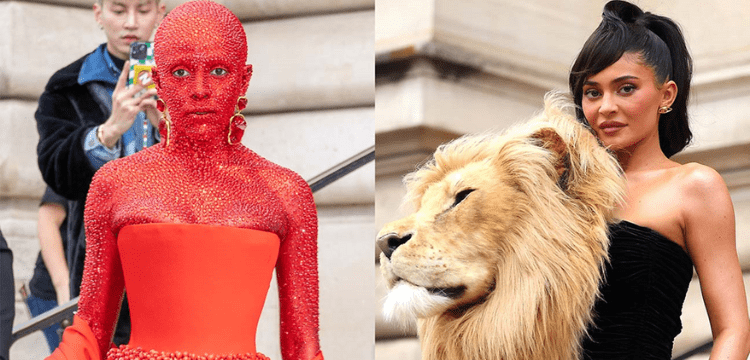 Get the low-down on Schiaparelli's lion heads, singer's trypophobia-triggering look and Dior's tribute
France: When US entrepreneur and celebrity TV star Kylie Jenner attended the Schiaparelli fashion show as a guest wearing a dress with an extraordinarily lifelike lion's head protruding from her chest, it briefly made a stir.
The Schiaparelli dress, which also made an appearance on the runway and was created by Daniel Roseberry under the name "Leo Couture," was "hand painted to seem as life like as possible" and was constructed of foam, wool, and silk faux fur, according to the brand on Instagram.
However, some animal lovers weren't amused. In a well-liked comment on Instagram, one person said, "The whole premise of this is awful." "Whether the animal heads are real or not, they promote trophy hunting, which is unquestionably repugnant, aggressive, and backwards. Try once more."
While the brand's collection of three-dimensional animal heads was "fabulously imaginative," PETA President Ingrid Newkirk told TMZ that it "may be a statement against trophy hunting, in which lion families are torn apart to serve human egotism."
Along with Jenner's ensemble, Schiaperelli's collection included other unique pieces including a black wolf's head worn by Naomi Campbell and a white strapless dress with a snow leopard head protruding from the bodice.
Rapper Doja Cat — whose 2022 album Planet Her became one of the five most-streamed albums globally on Spotify — also turned heads at the Schiaparelli show.
Dressed in a full red costume, all her exposed skin was covered in red crystals which resulted in some of her fans saying that her look triggered their trypophobia: namely, the fear of irregular patterns or clusters of small holes or bumps.
It took Pat McGrath, the makeup artist who created the look, more than five hours to paint the rapper's face and body red and then apply the 30,000 Swarovski crystals on her body.
Among the many who tweeted about their negative reactions to Doja's look, one wrote, "Anyone who retweets Doja's look on my Timeline is going to be blocked. What in the trypophobia!" To this someone replied, "It's making my skin crawl."
A statement denouncing the Iranian government
At the Louis-Gabriel Nouchi show during Paris Design Week, a model delivered a sobering political message in addition to flashy fashion statements.
A black-shirted man holds up a banner that reads, "More than a fashion statement," reads a sign held up by a man wearing a black shirt.
The model was wearing pieces from the designer's autumn-winter ready-to-wear line while holding a tiny white sign that stated, "Stop the killings in Iran."
American Psycho, a 1991 book by Bret Easton Ellis, served as the inspiration for Nouchi's line.