SC Gathers for Historic Hearing on 2023 Practice and Procedure Act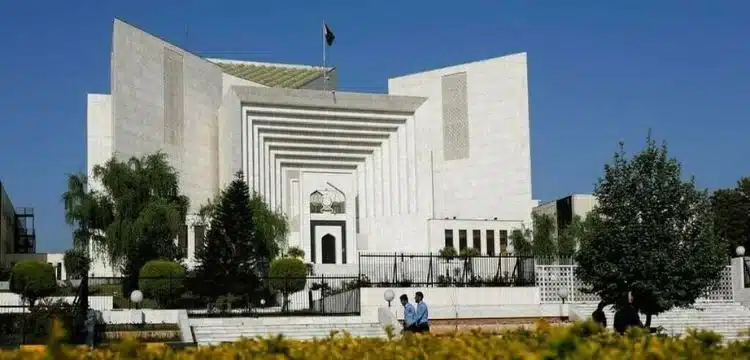 A momentous session is currently unfolding at the Supreme Court of Pakistan, as a full court meeting brings together all 15 judges to deliberate on a series of petitions challenging the Supreme Court (Practice and Procedure) Act 2023. Scheduled to be heard by a bench presided over by Chief Justice of Pakistan, Qazi Faez Isa, this critical legal battle has garnered significant attention both within and outside the legal community.
The Supreme Court (Practice and Procedure) Act 2023, which was initially enacted by the previous government of the Pakistan Democratic Movement (PDM), is at the center of this legal dispute. This legislation was introduced with the primary aim of curtailing the powers of the Chief Justice of Pakistan, notably by depriving the office of the CJP of the authority to initiate suo motu proceedings independently.
Also Read: Justice Qazi Faez Isa Takes Oath As 29th Chief Justice
Under this law, the decision to entertain suo motu cases is now vested in a three-member bench, comprising the Chief Justice of Pakistan and the two most senior judges of the Supreme Court. This marks a significant departure from the previous practice, where the Chief Justice had sole discretion in initiating such cases. Additionally, the Act extends the review jurisdiction of the Supreme Court, granting individuals the right to file an appeal within 30 days of a judgment in suo motu cases.
In response to these developments, on April 13, an eight-judge Supreme Court bench, led by former Chief Justice Umar Ata Bandial, suspended the enforcement of the Supreme Court (Practice & Procedure) Act, 2023. Justice Bandial, during the suspension ruling, emphasized the court's deep respect for Parliament but also underscored the need to scrutinize any potential constitutional deviations or violations that may have occurred during the enactment of the legislation.
Also Read: Justice Qazi Faez Isa's Historic Oath-Taking Ceremony with Wife Sarina
The petitioners in this case have argued before the apex court that the formulation, endorsement, and passage of the law were driven by mala fide intentions. As such, they contend that the bill should be invalidated, declared devoid of legal authority, and rendered null and void.
Furthermore, the petitioners assert that the federal government lacks the jurisdiction to introduce legislation that interferes with or regulates the functioning of the Supreme Court, its powers, or those exercised by its judges, including the Chief Justice of Pakistan, as stipulated by the Constitution.
With the fate of this crucial legislation hanging in the balance, legal experts and citizens alike are watching closely as the Supreme Court grapples with the intricate legal and constitutional questions at hand. The outcome of this case has the potential to reshape the dynamics of judicial power and authority in Pakistan's legal landscape.