Justice Qazi Faez Isa's Historic Oath-Taking Ceremony with Wife Sarina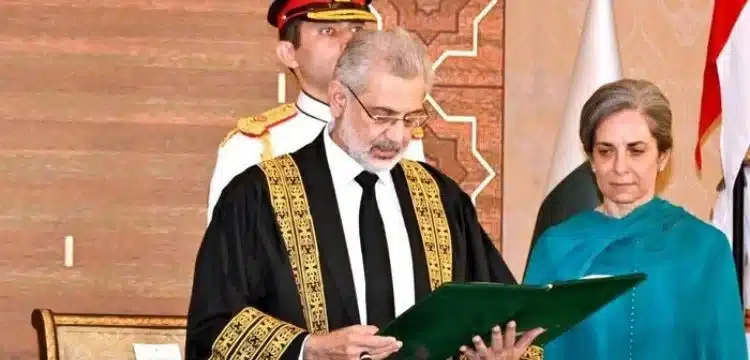 Qazi Faez Isa, the newly-appointed Chief Justice of Pakistan (CJP), took the oath of office alongside his wife, Sarina Isa, in a historic and symbolic moment for Pakistan's judiciary. During the oath-taking ceremony, Sarina Isa stood beside her husband as he pledged to uphold the rule of law, adhere to Pakistan's Constitution, and ensure justice during his tenure as the country's top judge until October 25, 2024.
Notably, Justice Isa had faced a presidential reference that was ultimately dismissed by the Supreme Court on June 19, 2020. The detailed verdict on the case was issued in January 2022, stating that the Federal Board of Revenue (FBR) had unlawfully obtained the tax records of the judge and his family.
Also Read: Justice Qazi Faez Isa Takes Oath As 29th Chief Justice
Justice Isa's gesture of having his wife stand with him during the oath-taking ceremony has garnered widespread praise for breaking from tradition and emphasizing the equality of women. Sherry Rehman, a former climate change minister and PPP leader, commended the act as an important message about gender equality and partnership. She shared on X (formerly Twitter): "Good to see Justice Qazi Faez Issa ask his wife to also stand with him for his oath taking. Sends out an important message re women and partnerships and equality."
Ahsan Iqbal, a leader of the Pakistan Muslim League-Nawaz (PML-N) and former planning minister, described the act as a commendable tradition. He expressed admiration for Sarina's courage and resilience in facing the conspiracy intended to prevent the chief justice from assuming office and noted, "Surely, Allah honours whomever He wills," in a post on X.