Justice Qazi Faez Isa Takes Oath As 29th Chief Justice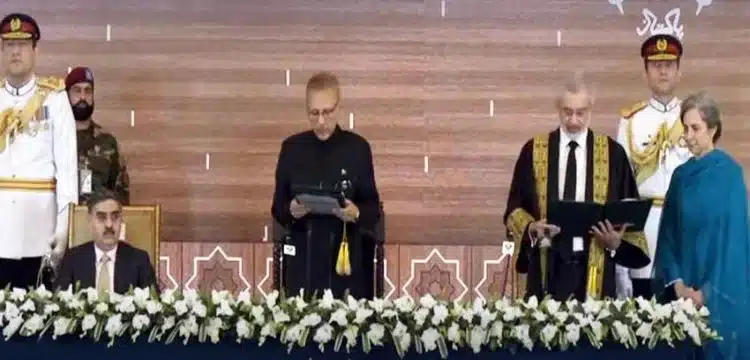 Justice Qazi Faez Isa was sworn in as Pakistan's 29th Chief Justice (CJP) on Sunday during a ceremony at the President House in Islamabad. President Dr. Arif Alvi conducted the oath-taking in the presence of Interim Prime Minister Anwaarul Haq Kakar and Chief of Army Staff (COAS) General Asim Munir. Justice Isa's wife, Sarina Isa, accompanied him as the notification of his appointment was read out. His tenure as CJP will last for 13 months, concluding on October 25, 2024. Notably, he is the second CJP from Balochistan, following Iftikhar Chaudhry.
Justice Isa has gained acclaim for presiding over significant cases such as the Memogate Commission, the Quetta Tragedy Inquiry Commission, and the Faizabad Dharna Decision.
Read more : Justice Isa To Assume The Role Of The 29th Chief Justice
The ceremony commenced with the recitation of the Holy Quran.
Justice Isa was born on October 26, 1959, in Quetta, and his father, Qazi Muhammad Isa, played a significant role in the movement for Pakistan's establishment, closely associated with Quaid-e-Azam Muhammad Ali Jinnah. He completed his early education in Quetta and his A and O levels at Karachi Grammar School. Subsequently, he pursued law studies in London, where he successfully completed the bar professional examination.
Justice Isa embarked on his legal career as an advocate in the Balochistan High Court in 1985 and later became an advocate of the Supreme Court in 1998. He practiced law in the Balochistan High Court and the Supreme Court for over 27 years before becoming the Chief Justice of the Balochistan High Court in 2009. He served as the chief justice of the high court from 2009 to 2014 and was elevated to the Supreme Court in 2014.
During the state of emergency declared in the country on November 3, 2007, Justice Isa took a principled stand by refusing to appear before judges whom he believed had violated their oath. In protest, the judges of the Balochistan High Court resigned, and later, Justice Isa assumed the position of judge and later Chief Justice of the high court on August 5, 2009. He was sworn in as a Supreme Court justice on September 5, 2014.
Justice Isa has recently drawn attention for his protest against the non-implementation of the Supreme Court Practice and Procedure Act, which was established during the Shahbaz Sharif era. As a form of protest, he refrained from hearing cases for the past five months and opted to work in his chambers instead.