Pakistan Triumphs Over India In Men's Hockey 5s Asia Cup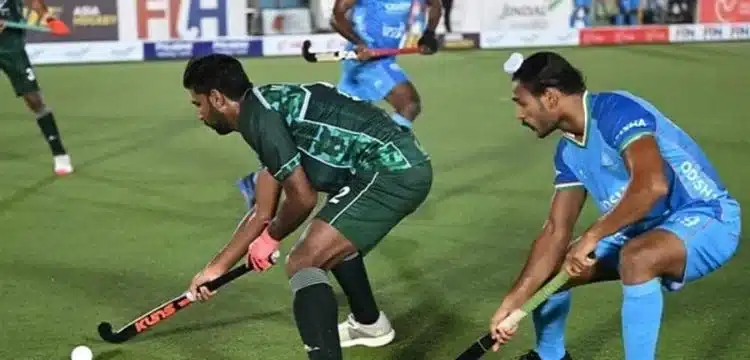 Pakistan secures 5-4 victory over India, maintaining unbeaten streak in Men's Hockey 5s Asia Cup 2023 held in Salalah, Oman.
This win marks their third consecutive triumph, accumulating 46 goals and claiming the top spot with nine points.
Arshad Liaquat scores two goals, while Abdul Rehman, Zakriya Hayat, and Rana Abdul Waheed each contribute one.
Read more : Pakistan is set to compete in the Hockey Champions Trophy in India.
In recognition of their outstanding performance, the Pakistan Hockey Federation's President announces a $100 reward for each player.
Previously, Pakistan outperforms Bangladesh with a 15-6 win. Upcoming matches against Oman (3 pm) and Malaysia (8 pm).
After pool matches, lower Elite pool teams face top Challenger pool teams in initial crossover matches.
Winners advance to second crossover against Elite pool's third and fourth-placed teams.
Top Elite pool finishers compete against second crossover winners in semis.
Losing semifinalists vie for bronze, winners alongside finalists qualify for FIH Hockey5s World Cup Oman 2024.