India Tells Canada To Withdraw Their Diplomats By 10 October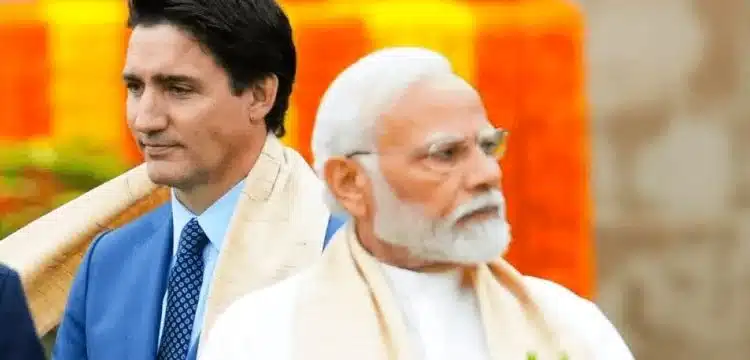 According to a report in the Financial Times on Tuesday, Canada has been informed by India that it must repatriate 41 diplomats by October 10.
The relationship between India and Canada has become severely strained due to Canadian suspicions regarding the involvement of Indian government agents in the murder of Hardeep Singh Nijjar, a Sikh separatist leader and Canadian citizen, which occurred in Canada in June. India had previously labeled Nijjar as a "terrorist" and dismissed the allegations as "absurd."
The Financial Times, citing sources familiar with the Indian demand, reported that India had issued a warning that it would revoke the diplomatic immunity of diplomats who remain in Canada after the specified deadline of October 10. Canada currently has 62 diplomats in India, and India has requested a reduction of 41 diplomats, as per the newspaper's information. Both the Indian and Canadian foreign ministries have not yet responded to requests for comments on this matter.
Also Read: Canadian PM Expelled Indian Diplomat Over Link with Sikh Leader's Murder
Indian Foreign Minister Subrahmanyam Jaishankar had previously expressed concerns about a "climate of violence" and an "atmosphere of intimidation" against Indian diplomats in Canada, where the presence of Sikh separatist groups has been a source of frustration for New Delhi.
In the ongoing Canada-India dispute, Canada took the significant step of expelling India's top intelligence agent in connection with Nijjar's murder, while actively pursuing credible allegations linking Indian government agents to the crime.
Prime Minister Justin Trudeau addressed the Canadian House of Commons with an emergency statement, condemning any foreign government's involvement in the killing of a Canadian citizen as a violation of Canada's sovereignty and urging India to take the investigation seriously.
Also Read: India Expels Canadian Diplomat In Retaliation
In response, India expelled a Canadian diplomat with a five-day notice to leave the country and dismissed Canada's accusations as "absurd and motivated." India also called on Canada to take legal action against "anti-Indian elements" operating from its soil.
Who was Hardeep Singh Nijjar?
Hardeep Singh Nijjar, born in 1977 in India's Jalandhar district, had moved to Canada in 1997, where he worked as a plumber. He was associated with the Babbar Khalsa International (BKI) Sikh separatist group, as per India's National Investigation Agency. India classified BKI as a "terrorist organization" and accused it of being funded by Pakistan's Inter-Services Intelligence (ISI) spy agency, a charge that Islamabad denied.
Nijjar later became the chief of the Khalistan Tiger Force (KTF) militant group and was actively involved in operationalizing, networking, training, and financing its members, according to a 2020 statement by the Indian government. New Delhi officially designated him as a "terrorist," alleging his involvement in seditious activities and attempts to create disharmony among different communities in the country.
For supporters advocating an independent Sikh state of Khalistan, Nijjar was a prominent leader and a strong advocate of the cause. He held the position of head of the Guru Nanak Sikh Gurudwara, a Sikh place of worship in Surrey, the Vancouver suburb where he lived, at the time of his death.