Vice Admiral Naveed Ashraf Appointed as Pakistan's New Chief of Naval Staff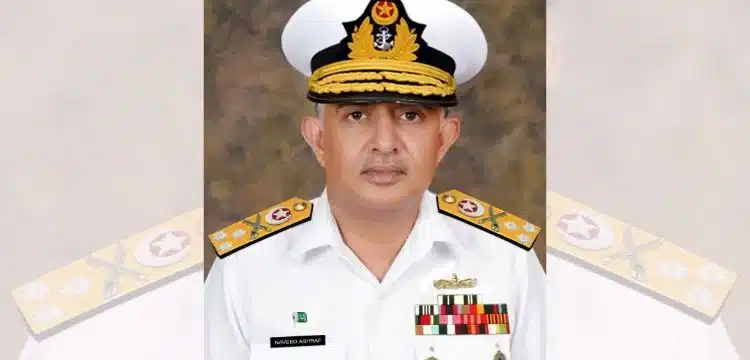 Vice Admiral Naveed Ashraf has been designated as the incoming Chief of Naval Staff, heralding a significant transition in the Pakistan Navy. The ceremonial Change of Command event, steeped in tradition within the Pakistan Navy, is slated to occur in the nation's capital, Islamabad, on October 7, 2023.
Vice Admiral Naveed Ashraf, who currently occupies the position of Chief of Staff at Naval Headquarters, will officially assume the esteemed title of Admiral during the Change of Command ceremony.
Vice Admiral Ashraf brings a wealth of experience to this new role, having commenced his career in the Pakistan Navy's Operations Branch in 1989. His journey through the naval hierarchy has been characterized by unwavering dedication and a profound commitment to service.
Concerning his educational background, Vice Admiral Naveed Ashraf stands as a distinguished alumnus of several prestigious institutions, including the National Defence University in Islamabad, the US Naval War College, and the Royal College of Defence Studies in the United Kingdom.
Also Read: Govt Appoints Lt Gen Muhammad Munir Afsar as NADRA Chairman
Over the course of his career, Vice Admiral Ashraf has occupied pivotal command and staff positions within the Pakistan Navy. Notably, he has previously held the positions of Commander Pakistan Fleet and Commandant Pakistan Naval Academy, showcasing his leadership prowess and strategic insight.
His roles have also encompassed vital responsibilities, such as Deputy Chief of Naval Staff (Operations), Deputy Chief of Naval Staff (Training and Personnel), Deputy Chief of Naval Staff (Administration), and Deputy President of the National Defence University. These diverse roles have provided him with a comprehensive understanding of the intricacies of naval operations and administrative functions.
Vice Admiral Naveed Ashraf's unwavering commitment to his nation and his remarkable contributions to the armed forces have been recognized through prestigious accolades. He is the recipient of the Hilal-e-Imtiaz (Military) and Tamgha-e-Basalat awards, underscoring his steadfast dedication to duty and acts of valor.