Shehbaz Sharif Redefines PMLN's Stance on Establishment in Bold Shift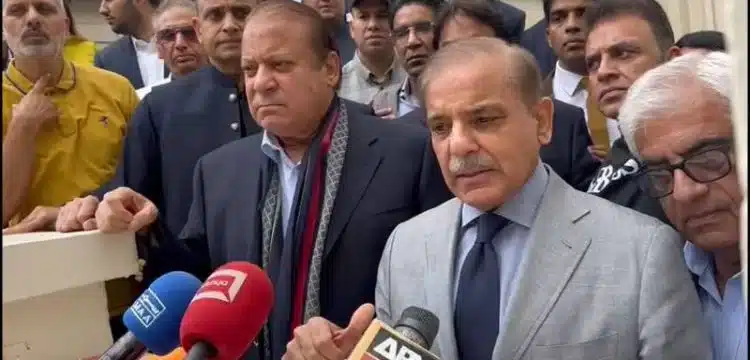 Shehbaz Sharif, the President of PML-N, together with his like-minded colleagues, has not only transformed the party's stance against the establishment but has also boldly challenged the conventional wisdom that winning elections hinges solely on public perception.
Known for his unwavering determination, Shehbaz Sharif has successfully redirected his party's attention away from retired military leaders, such as former army chief Gen Qamar Javed Bajwa and ex-spymaster Lt-Gen Faiz Hameed. This shift occurred shortly after PML-N had initially embarked on an anti-establishment path.
Previously, the party had criticized judges and generals, believing they were responsible for bringing the PTI into power, even though they had supported Gen Bajwa's extension in service. However, PML-N has now refrained from criticizing them, adopting a narrative that suggests their supreme leader, former premier Nawaz Sharif, entrusted everything to a higher power, as if they had any alternative.
Also Read: More power as Nawaz Sharif returns to Pakistan
Political analyst Zaigham Khan pointed out that the establishment is a permanent entity, encompassing more than just the names of specific officers, particularly retired ones. He argued that holding retired military officials accountable did not constitute an anti-establishment stance.
Zaigham further noted that while Nawaz Sharif attempted to build an "anti-establishment" narrative against certain retired military officials, including Bajwa and Faiz, they were no longer part of the establishment. The PML-N's recent contradictions were evident in its legislative support for Gen Bajwa's extension, which inadvertently paved the way for future extensions for army chiefs.
The Pakistan Institute of Legislative Development and Transparency (PILDAT) President, Ahmed Bilal Mehboob, disagreed with Zaigham, asserting that the PML-N did indeed possess a potent anti-establishment narrative. He highlighted Nawaz Sharif's repeated attempts to assert his constitutional authority as the prime minister, despite facing consequences each time.
Also Read: Bashir Memon, Former DG FIA Joins PML-N Party
Mehboob noted that Nawaz operated based on ideal conditions, while Shehbaz focused on practical realities, making it difficult to determine whose approach was correct in Pakistan's context.
A confidential PML-N leader revealed that Shehbaz Sharif's narrative had ultimately prevailed, suggesting that the "anti-Bajwa and Faiz" narrative was a mere ploy to sway public opinion in favor of the party, particularly when Imran Khan's government aligned with influential circles or when he adopted an anti-establishment stance.
However, the leader acknowledged Imran Khan's inconsistencies, as he would criticize the establishment during the day but seek their support at night, a fact disclosed by the current ISI DG, Lt-Gen Nadeem Anjum, during a press conference.
Even though Nawaz Sharif initially singled out former army chief and spymaster as "enemies of Pakistan," he chose to look the other way rather than demand justice against those who allegedly conspired to remove him from power in 2017. This indicated that the PML-N, especially Shehbaz, did not want to confront the powerful forces.
During his tenure in the PM Office, Shehbaz replaced the Intelligence Bureau (IB) with the ISI, granting it Special Vetting Agency (SVA) status to screen government officers. In July 2023, his government expanded the military's powers beyond its original mandate through amendments to the Pakistan Army Act, 1952, legitimizing GHQ's involvement in activities typically under civilian authority.
Furthermore, the PML-N-led government turned the legislative forum into a "rubberstamp parliament," passing numerous bills without debate. Among them was the establishment of a Special Investment Facilitation Council (SIFC), initially designed to attract foreign investment but later expanded to handle domestic economic matters.
The PML-N leadership remained silent during its 16-month rule but suddenly called for accountability of former judges and generals. However, Shehbaz appears to have refocused the PML-N on economic revival, gaining the upper hand in the party's direction.