Shaheen Afridi Set To Take Bride Home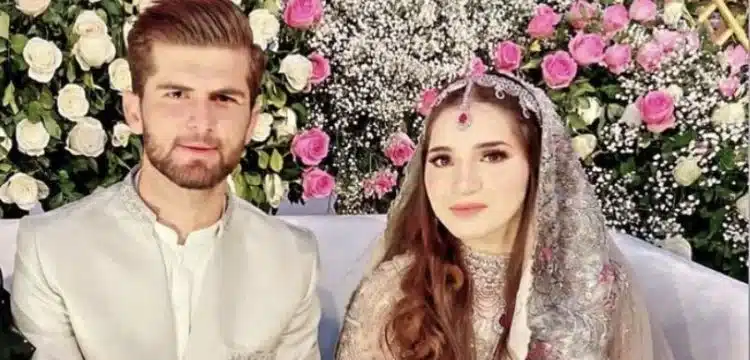 Cricketer Shaheen Shah Afridi is poised to escort his bride, Ansha, to their new home this evening. Their pre-wedding celebrations commenced last night with an intimate mehndi gathering held at the Afridi residence in Karachi.
Shaheen Afridi wedding Preparations🙌💯.#ShaheenAfridi #ShahidAfridi https://t.co/je4PpIZWn2

— Shaharyar Ejaz 🏏 (@SharyOfficial) September 18, 2023
Also Read: Shaheen Afridi's Wedding Festivities Begin with Mehndi Ceremony
Shahid Afridi, the renowned cricketer, hosted a private dinner at his residence on Monday night, one day before his daughter's wedding to Shaheen. This was arranged for both families to come together in preparation for the upcoming nuptials.
Mehndi Night at Sasur House 🏠#ShaheenAfridi #ShahidAfridi #PakistanCricket pic.twitter.com/NZ80qLAWYB

— Muhammad Rizwan (@IamRizwanPK) September 18, 2023
Videos and images from the gathering have gone viral on social media, heightening fans' excitement as they eagerly await the sight of their beloved cricketer and his bride in their wedding attire.
Family Dinner ❤️ A picture-perfect celebration of love and togetherness. Bhai wedding, a day to remember! Forever memories in stone. 💕#ShaheenAfridi #AnshaAfridi #Wedding #ShahidAfridi #Mehndi #Night pic.twitter.com/iUuYyXC6YS

— Shan Afridi (@shan_afridi7) September 19, 2023
It's worth noting that the wedding invitations of the couple became widely known on social media earlier this month, confirming that Ansha's rukhsati ceremony will occur in Karachi on Tuesday, September 19 (tonight), while Shaheen's family will host the Walima reception in the capital on September 21.
For those unfamiliar with their story, the left-arm fast bowler became engaged to Ansha Shahid, the second eldest daughter of the former national cricket team skipper, in 2021, as officially confirmed by both families. The two entered into nikkah in a private ceremony in February of this year, attended by close friends, family, and teammates.