Justice Isa To Assume The Role Of The 29th Chief Justice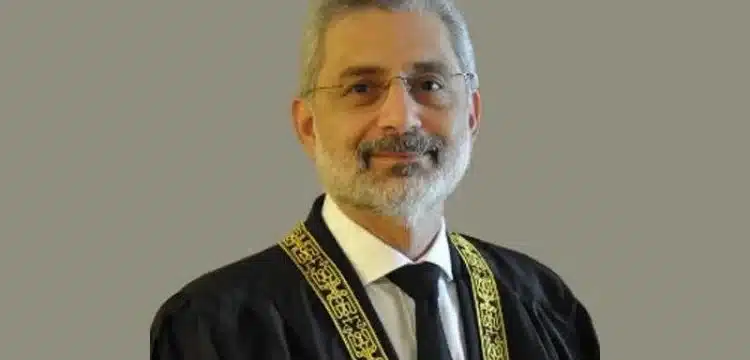 Following Chief Justice of Pakistan Justice Umar Ata Bandial's retirement on Saturday, Justice Qazi Faez Isa, the Chief Justice-designate, is set to be sworn into office today (Sunday).
Justice Isa, slated to become the 29th chief justice, will officially assume his role during a swearing-in ceremony at 11:00 a.m. at the President House.
The event will be attended by the four services chiefs, the prime minister, four provincial chief ministers, federal and provincial ministers, chief justices of high courts, judges, and lawyers from the Supreme Court.
Read more : CJP Umar Ata Bandial Retires From Judicial Duties
His term as Chief Justice will span 13 months, concluding on October 25, 2024.
Notably, Justice Isa will be the second Chief Justice from Balochistan, following Iftikhar Chaudhry.
Justice Isa has earned widespread recognition for presiding over significant cases, including the Memogate Commission, the Quetta Tragedy Inquiry Commission, and the Faizabad Dharna Decision.
Born on October 26, 1959, in Quetta, Justice Isa's father, Qazi Muhammad Isa, was a prominent figure in the movement for the establishment of Pakistan and a close associate of Quaid-e-Azam Muhammad Ali Jinnah.
Justice Isa received his primary education in Quetta and completed his A and O levels at Karachi Grammar School. He then pursued law studies in London, where he successfully completed the bar professional examination.
Justice Isa initiated his legal career as an advocate in the Balochistan High Court in 1985 and later became an advocate of the Supreme Court in 1998. He practiced law in both the Balochistan High Court and the Supreme Court for over 27 years before being appointed as the Chief Justice of the Balochistan High Court in 2009.
He served as Chief Justice of the high court from 2009 to 2014 and was subsequently elevated to the Supreme Court in 2014.
During the state of emergency declared in the country on November 3, 2007, Justice Isa made a principled decision to refrain from appearing before judges whom he believed had violated their oath. In protest, the judges of the Balochistan High Court resigned, and later, Justice Isa took up the position of judge and eventually Chief Justice of the high court on August 5, 2009. He was sworn in as a Supreme Court justice on September 5, 2014.
Justice Isa has recently garnered attention for his protest against the non-implementation of the Supreme Court Practice and Procedure Act, which was established during the Shahbaz Sharif era. As a form of protest, he has refrained from hearing cases for the past five months and has chosen to work in his chambers instead.