Hareem Shah Accuses Maryam Nawaz of Running 'Torture Cells' and Kidnapping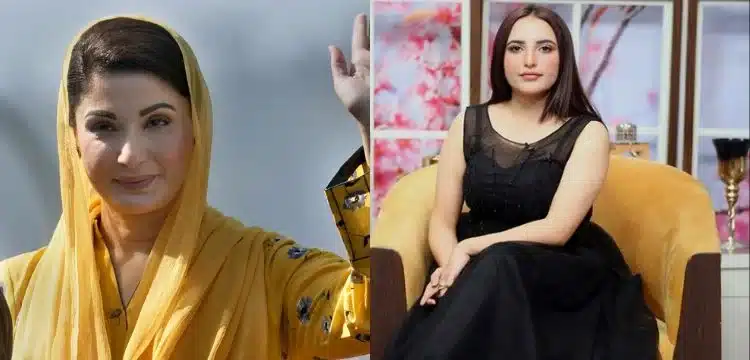 In a shocking revelation, popular TikTok sensation Hareem Shah has come forward with serious allegations against Pakistan Muslim League-Nawaz (PML-N) senior vice president and chief organizer, Maryam Nawaz. Hareem Shah claimed that Maryam Nawaz is involved in running "torture cells" across various cities in Pakistan, where innocent individuals are reportedly held captive and subjected to brutal treatment.
Hareem Shah made these accusations in a video posted on her microblogging platform X account, promising to hold a press conference in the United Kingdom (UK) in the near future to expose those responsible for the alleged abduction of her husband and to reveal the location where he was detained.
مریم نواز کچھ سرکاری افسران کی مدد سے مختلف شہروں میں "ٹارچر سیل" چلا رہی ہے جہاں بےگناہ لوگوں کو رکھا اور ان پر تشدد کیا جاتا ہے۔ میرے شوہر کو مریم کی ویڈیوز لیک ہونے کے خوف سے اغوا کیا گیا تھا۔ pic.twitter.com/6WUWT5RoXC

— Hareem Shah (@_Hareem_Shah) September 28, 2023
The TikTok star asserted that Maryam Nawaz had orchestrated the kidnapping of her husband in retaliation for a video Hareem Shah had released, which supposedly shed light on allegations of Captain (retd) Safdar's second marriage. Hareem Shah also implicated some individuals within the Federal Investigation Authority (FIA) in connection with the case.
Also Read: Hareem Shah Receives Applause from Fans for Her Naat Recitation
Accusing Maryam Nawaz of operating these "torture cells" in several Pakistani cities, including Karachi, Hareem Shah claimed that numerous individuals were being held in these facilities, often blindfolded and interrogated about their connections to the social media star.
Hareem Shah defiantly declared, "Kidnap me if you want to ask anything," emphasizing that no one had the right to abduct her family members, friends, or husband, who had no involvement in her activities.
In a startling revelation, Hareem Shah disclosed, "I have three videos of Maryam Nawaz," suggesting that her husband's abduction was an attempt to prevent the release of these videos to the public. She expressed her determination to make these videos accessible to the public in the future.
These allegations have stirred significant controversy, and many are now eagerly awaiting Hareem Shah's promised press conference in the UK to learn more about the evidence behind her claims.