Friendship Wins In Pak-China Cricket Friendly Match In Lahore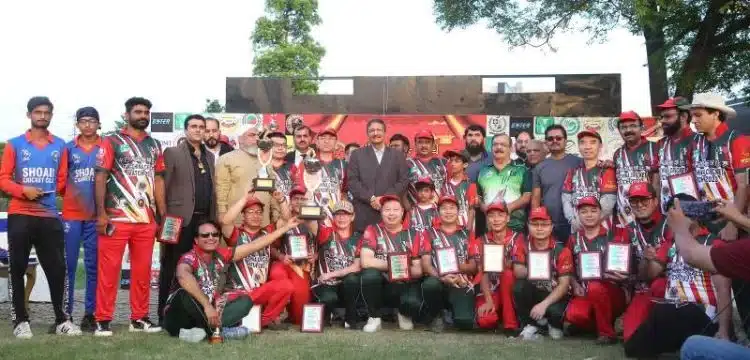 In Lahore, the Friendship team emerged victorious in the Pak-China Friendly Cricket Match held at LCCA Ground on Wednesday. After a competitive match, Pak-China Green convincingly defeated Pak-China Red by nine wickets.
This inaugural 2023 Pak-China Friendship Cricket Match signifies a new chapter in the enduring Sino-Pak relationship, spanning over 72 years. It coincides with the resurgence of cricket in the Hangzhou Asian Games in China. The match, which excited cricket enthusiasts, especially in Lahore, was organized in collaboration with the Chinese Consulate Lahore and the Institute of International Relations and Media Research (IIRMR). Luo Jianxue led the Pak-China Cricket Team Red, while Yasir Habib Khan captained the Pak-China Cricket Team Green.
Read more : Pakistan And China Launched Their Debut International Road Trade Route
Prominent figures at the event included Zaka Ashraf, the chief guest representing Pakistan's PCB Management Committee, and Cao Ke, the chief guest from the Chinese side, serving as the Acting Consul General in Lahore. Notable attendees also included Atif Rana and Sameen Rana, owners of Lahore Qalandars; former cricketers Misbah ul Haq, Nadeem Khan, Junaid Zia; LRCA President Khawaja Nadeem Ahmed; Moazzam Klair; Fakhar Shah; IIRMR Chairman Muhammad Mehdi; President Yasir Habib Khan; Vice President Muhammad Faisal; PCJCCI President Moazam Ghurki; Secretary General Salahuddin; and others.
Zaka Ashraf praised the initiative taken by the Institute of International Relations and Media Research (IIRMR) to engage Chinese nationals in a wholesome cricket event. He expressed readiness to provide the Chinese national cricket team with the necessary facilities and coaching at Pakistan's state-of-the-art National Cricket Academy.
Chinese Acting Consul General Lahore, Cao Ke, emphasized the shared love for cricket as a unique aspect that unites China and Pakistan. He wished the Pakistani cricket team success in the Asian Games and highlighted the role of cricket as a bridge between the two nations.
Furthermore, China has invested in developing new cricket infrastructure to support international teams in the Asian Games, showcasing its commitment to the sport's growth.
Cao Ke celebrated the historic first-ever friendly T-10 match between China and Pakistan as a momentous occasion, uniting dignitaries, Chinese consuls, journalists, celebrities, and cricket enthusiasts. He emphasized the enduring friendship between Pakistan and China, celebrating China's National Day and the ongoing Asian Games.
Muhammad Mehdi, Chairman of the Institute of International Relations and Media Research (IIRMR), expressed the institute's dedication to strengthening Pak-China relations and highlighted the positive impact of the Pak-China Friendship Cricket Match on fostering goodwill between the two nations.