Former PM Imran Khan Transferred To Adiala Jail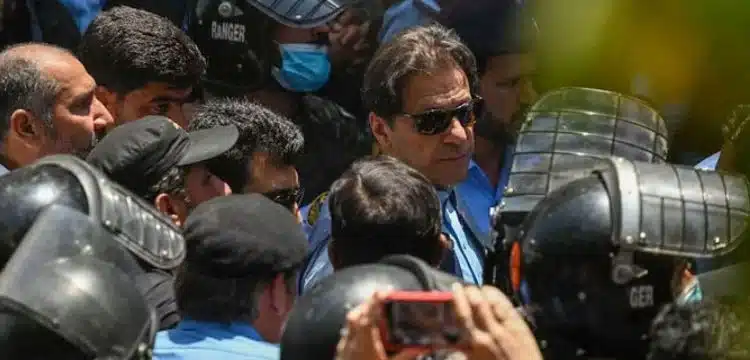 In a significant development on Tuesday, a substantial contingent of Islamabad Police descended on Attock Jail, executing court orders to transfer former Prime Minister and Pakistan Tehreek-e-Insaf (PTI) Chairman Imran Khan to Rawalpindi's notorious Adiala Jail.
Insiders with knowledge of the matter informed The Express Tribune that the police operation had been successfully completed, with Imran Khan being escorted to the infamous Adiala Jail in Rawalpindi. This move comes after several former prime ministers have previously served sentences in the same facility.
Khan, who was dressed in black trousers and a T-shirt, is assured that all his needs, including medical care, will be met in strict adherence to the jail manual upon his placement in Adiala Jail. Furthermore, it has been confirmed that the PTI chief will be accorded a superior class in accordance with the privileges befitting a former prime minister.
Also Read: IHC Orders to Move Imran Khan From Attock Jail to Adiala Jail
Imran Khan had been incarcerated in Attock Jail, located approximately 90 kilometers west of the federal capital, on August 5, following his conviction in the Toshakhana case, citing "security concerns." However, on August 29, the Islamabad High Court (IHC) suspended the PTI chairman's sentence in the case. Yet, freedom remained elusive for the former premier, as the Federal Investigation Agency (FIA) arrested him on the same day in connection with alleged illegal possession and use of a diplomatic cypher.
Throughout this legal saga, lawyers representing the PTI chief petitioned the IHC, requesting Khan's transfer to Adiala Jail. A single-member bench, led by IHC Chief Justice Aamer Farooq, approved the petition.
Authorities at Adiala Jail have reported that Khan's quarters have been meticulously cleaned and prepared to ensure that facilities align with court directives. The former premier's room features an adjoining bathroom, and a designated inmate has been assigned to assist him during his time at the facility.
The transfer of Imran Khan to Adiala Jail marks another chapter in the legal proceedings surrounding the former prime minister, as he continues to face legal challenges in various cases.