FIA Arrested Iqra University Professor in Harassment Case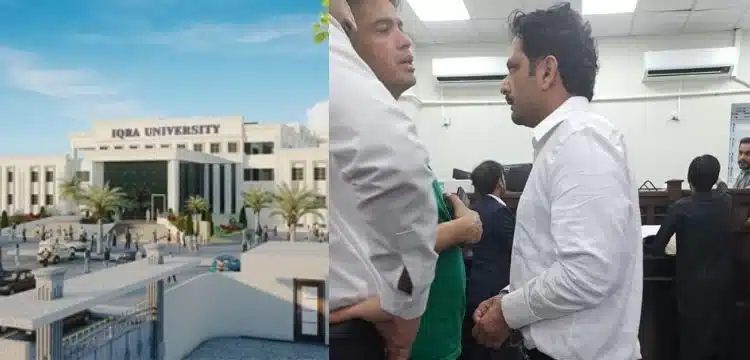 Rizwan Bari Director Iqra University Islamabad arrested by FIA for harassing Iqra University female staff & students. 
Iqra University issued a statement regarding the claim of harassment case on denying his position as director of institute, "Contrary to the Media Reports published in the "Daily Jang,""the News" and other publications, Iqra University categorically denies the incorrect statement contained in the press reports that Muhammad Rizwan Barri is a Director of Iqra University. Any claim or suggestion of his association with Iqra University is completely unfounded and misleading."
The press release further stated that, "Mr. Barri procured his appointment in Iqra University on October 11, 2022, through fraud and misrepresentation based on fake educational documents and degrees. His services at Iqra University were officially terminated on March 10, 2023, that is, within five months of his hiring. This decision was made in accordance with our commitment to maintaining the highest standards of integrity within our institution."
Also Read: University Lecturer Resigns Amid Sexual Harassment Verdict
Furthermore, Iqra University makes it explicitly clear that Mr Bari's arrest in the current case in FIA, pertains to conduct post-termination from the Iqra University and criminal acts committed by him in his personal capacity. These criminal acts relate to the creation of fake identification (emails, social media etc) and the use of the said identification for posting defamatory and derogatory content against Iqra University and these acts have nothing to do with students of Iqra University.
The complainant in the criminal case is an individual whose identity was stolen by Mr Bari for the publication of defamatory emails through fake email IDs.
Iqra University remains dedicated to providing quality education and upholding the values of honesty and accountability."