Zong 4G Introduces A Special Package For PUBG Mobile Players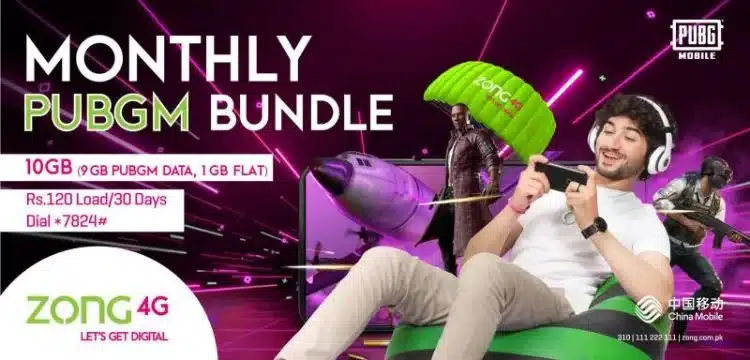 ISLAMABAD – Zong 4G has introduced a PUBG Mobile Bundle aimed at enhancing the gaming experience for Pakistan's youth. This offer is designed to provide uninterrupted gaming action to gaming enthusiasts.
Zong 4G acknowledges the increasing interest of young people in mobile gaming and aims to offer top-notch service to cater to the needs of data-hungry players. To fulfill the gaming requirements of its users, Zong 4G has launched the PUBG bundle, which includes a generous 10GB of data for uninterrupted gaming sessions. The best part is that this bundle is available at a highly competitive price of only PKR 120 and remains valid for 30 days, ensuring uninterrupted enjoyment of the PUBG battlefield.
Read more : Pubg Mobile National Championship to begin on Dec 16
A Zong 4G spokesperson expressed their enthusiasm, stating, "As Pakistan's leading digital enabler and the preferred 4G provider for Gen Z, Zong 4G is excited to introduce the exclusive PUBG Mobile Bundle. This offering underscores our commitment to enhancing the digital lifestyle of all our users. It perfectly aligns with our dedication to a digital lifestyle, in harmony with our brand promise of 'Let's get Digital,' which remains at the heart of our mission."
Accessing this offer is simple; users can conveniently access it through the user-friendly My Zong App or by dialing *7824# on their mobile devices. The PUBG Mobile Bundle exemplifies Zong's commitment to pioneering innovation and ushering in a new era of connectivity for gamers throughout Pakistan. Prepare to elevate your gaming experience!