World observes solidarity with Kashmiris over their rights.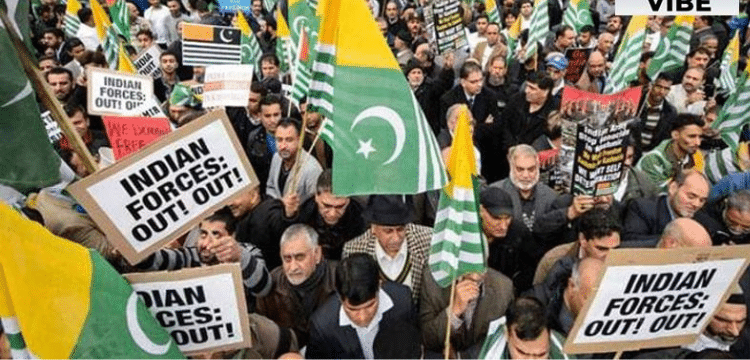 ISLAMABAD: On Sunday, people from all over the world showed their support for the people of Indian Illegally Occupied Jammu and Kashmir (IIOJK) in their justifiable fight for the right to self-determination in accordance with the wishes of the Kashmiri people and the resolutions of the UN Security Council.
Pakistani embassies and posts organised lectures and events to draw attention to the UN's longest-running and unsolved issue. Additionally, protest processions and demonstrations were staged in various nations by people of various ethnicities and expatriates.
Tokyo
The Embassy of Pakistan in Tokyo hosted a celebration on February 3, 2023, to commemorate Kashmir Solidarity Day. Participants included members of the Pakistani community, Kashmiris, and Japanese. The All Parties Hurriyat Conference convener, Syed Faiz Naqshbandi, participated electronically in the meeting.
The ambassador-designate emphasised the ongoing atrocities carried out in IIOJK by Indian occupation forces. He stated that Pakistan fully supported the struggle of Kashmir. With flags and posters in hand, Kashmiris and members of the Pakistani community in Tokyo staged protests earlier in the day in front of the Indian Embassy and the UN Office.
Kabul
To show support for their Kashmiri brothers and sisters and to honour the sacrifices made by the people of Jammu and Kashmir in defence of their right to self-determination against the ruthless Indian forces, the Pakistani Embassy in Kabul organised an event to commemorate Kashmir Solidarity Day.
Both representatives from the Pakistani Embassy and Pakistani citizens living in Kabul attended the ceremony. Charge d'Affaires Muhammad Junaid Wazir asserted in his speech that the Indian army illegally captured Jammu and Kashmir on October 27, 1947, in collusion with the Dogra Raj and against the will of the Kashmiris. The international community, according to him, must act justly and fulfil its pledge to organise a plebiscite in accordance with UNSC resolutions if the people of the valley are to receive justice.
Canada
To commemorate Kashmir Solidarity Day, the Pakistan High Commission in Canada and the Pakistan consulates in Toronto, Vancouver, and Montreal organised a number of activities, including roadshows, demonstrations, and photographic exhibitions.
The major ceremony took place at the Pakistan High Commission in Ottawa, where High Commissioner Zaheer Janjua gave a speech on the significance of Kashmir Solidarity Day to a group of Pakistani and Kashmiri diaspora.
He emphasised that Jammu and Kashmir was one of the first recognised international conflicts on the UNSC's agenda. He claimed that despite the existence of 11 UN resolutions on the subject, India had persistently thwarted attempts to hold a free, fair, and impartial plebiscite in IIOJK, as required by the resolutions.
The high commissioner further emphasised Kashmiris' hardships and sufferings as a result of India's unlawful and unilateral acts on August 5, 2019. He claimed that through attacking Kashmiri culture and identity, India's Bharatya Janata Party was carrying out the Hindutva goal of Rashtriya Swayamsevak Sangh in Kashmir.