Traders To Do Nationwide Strike Over Exorbitant Electricity Charges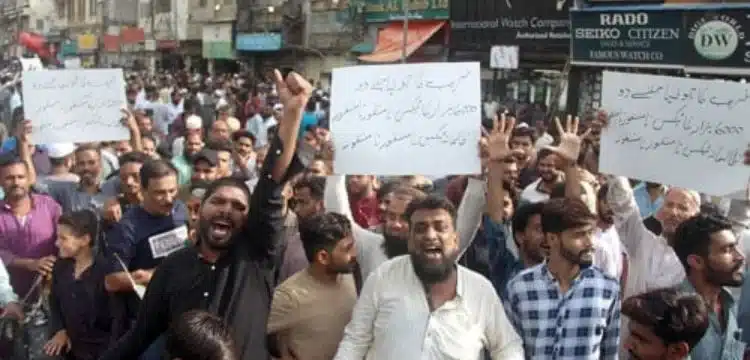 The business community has issued a strong warning to the government, indicating that they will initiate a nationwide strike if the current electricity bills are not significantly reduced. Prominent business leaders from Karachi have outlined their plan of action, detailing a forthcoming demonstration outside the Governor House and all K-Electric offices. This demonstration serves as a means to express their dissatisfaction with the exorbitant electricity bills that businesses are grappling with.
Sharjeel Goplani, the President of the Timber Market, is taking an assertive stance by asserting that he is prepared to elevate the matter to an international level. He intends to draft letters to various global organizations, including the United Nations, in order to spotlight what he perceives as an injustice stemming from the high electricity bills.
Read more : Massive Protests In Pakistan Over High Electricity Bills
Qais Mansoor Shaikh, Chairman of the Caterers Decorators Association, joins the chorus of protest, emphasizing that the burden of substantial electricity bills will not be tolerated under any circumstances. He underscores their intention to gather outside both the Governor House and K-Electric offices, making their dissent visible and vocal.
It's important to highlight that the wave of public outcry against steep electricity bills is echoing throughout the nation. The demand for the government to roll back the additional tax imposed on these bills is growing stronger. Demonstrators argue that the already heavy burden of inflation has been further exacerbated by the escalated electricity bills, forcing them to sacrifice household essentials in order to meet these high payment demands.