Shehbaz, Zardari And Others May Face Cases As NAB Law Amendments Annulled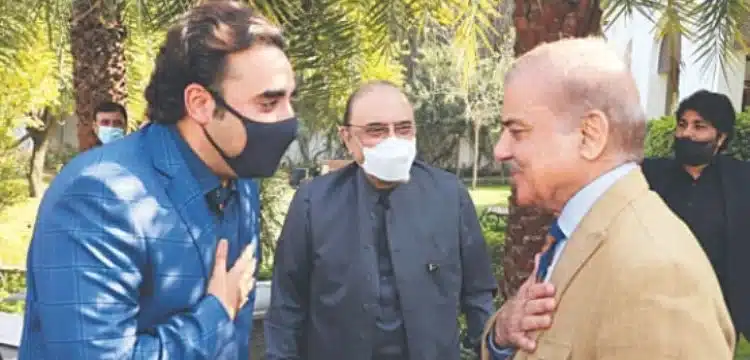 "In Islamabad, the Supreme Court has deemed a petition submitted by PTI Chairman Imran Khan against the alterations made to accountability laws by the previous coalition government admissible. This ruling may result in the reopening of corruption cases against public office holders.
A three-member bench, led by Chief Justice of Pakistan Umar Ata Bandial and including Justice Ijazul Ahsan and Justice Syed Mansoor Ali Shah, rendered the judgment with a 2-1 majority.
CJP Bandial and Justice Ahsan found Imran's plea admissible, while Justice Shah issued a dissenting opinion.
Read more : Supreme Court Cancels NAB Ordinance Amendments
Furthermore, the court invalidated certain modifications made to the accountability laws, deeming them incompatible with the Constitution of Pakistan.
The top court invalidated an amendment that restricted the National Accountability Bureau's (NAB) authority in cases involving amounts exceeding Rs500 million. Another amendment related to plea bargains was also struck down.
The apex court directed that cases that were closed due to amounts involved being less than Rs500 million should be scheduled for hearings before accountability courts. NAB has been given seven days to transmit all case records to the courts.
Who Will Face Cases Again?
The judgment reopens cases against one former president and six former prime ministers of the country, whose cases were closed under the amendments to the NAB laws.
Reports indicate that cases against former president Asif Ali Zardari, caretaker Prime Minister Anwaarul Haq Kakar, former PMs Shehbaz Sharif, Raja Parvez Ashraf, and others will be reopened.
Former PMs Yousaf Raza Gilani and Shaukat Aziz, former finance ministers Shaukat Tareen and Ishaq Dar, Sindh Chief Minister Murad Ali Shah, Hamza Shehbaz, Khawaja Saad Rafique, and others will also potentially face these cases again.
Background
In June 2022, Imran Khan submitted a petition to the apex court against the amendments made to the National Accountability Bureau (NAB) ordinance by the PMD government.
The amendments brought about several changes to the National Accountability Ordinance (NAO) 1999, including shortening the terms of the NAB chairman and prosecutor general to three years, limiting NAB's jurisdiction to cases involving over Rs500 million, and transferring all pending inquiries, investigations, and trials to the relevant authorities.
In his petition, the PTI chairman alleged that the amendments to the NAB laws would benefit influential suspects in major corruption cases."