Romania Inaugurates Offshore Patrol Vessel For Pakistan Navy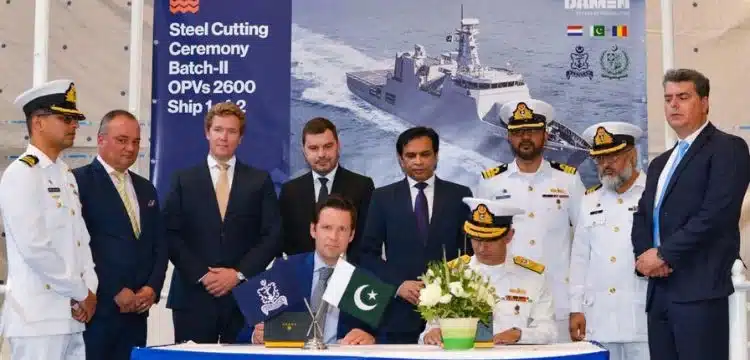 Pakistan Navy Ship HUNAIN (Desig), the most advanced offshore patrol vessel, was unveiled at Romania's M/s DAMEN Shipyard Galati. Chief of the Naval Staff Admiral Muhammad Amjad Khan Niazi graced the event as the chief guest, as reported by a Pakistan Navy news release.
During the ceremony, the Naval Chief emphasized the critical significance of maritime security given the current conventional and non-conventional threats in the Indian Ocean Region to energy and trade routes. He highlighted the Pakistan Navy's significant role in ensuring a secure maritime environment for trade since 2004.
Read more : Pakistan Navy Welcomes 2 Modern Warships in Induction Ceremony
Admiral Niazi expressed confidence that the addition of versatile and highly adaptable platforms, equipped with cutting-edge weapons and sensor systems, would enhance the combat capabilities of the Pakistan Navy fleet. This strengthening of capabilities will be instrumental in safeguarding maritime boundaries and ensuring maritime security in the Indian Ocean region, particularly in the Arabian Sea.
He also praised DAMEN Shipyard for its exceptional professionalism and dedication in constructing a warship within a short timeframe, emphasizing the trust and confidence that Pakistan Navy has in M/s DAMEN.
The launching ceremony saw the presence of senior officials from the Romanian Government and Navy, representatives from Pakistan Navy, M/s DAMEN, and members of the Pakistani community in Romania.