Punjab Govt Closes Schools Due to Conjunctivitis Outbreak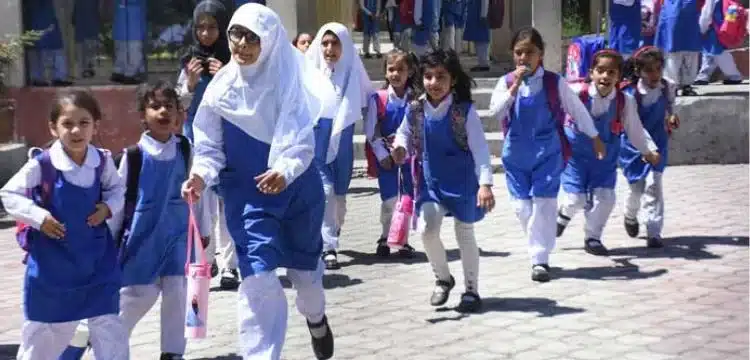 Punjab government has made an announcement regarding the closure of all educational institutions, both public and private, throughout the province. This decision will be in effect from Thursday through Sunday due to an outbreak of conjunctivitis.
The decision was prompted by a visit made by the interim Punjab Chief Minister, Mohsin Naqvi, to a government school in Lahore on Wednesday. During his visit, he expressed displeasure upon witnessing students affected by conjunctivitis. In response, the interim chief minister promptly summoned the school secretary and issued a directive that children with the virus should not be allowed to attend school.
The primary aim of this decision is to safeguard children from the conjunctivitis outbreak in Punjab, as stated by the secretary of schools.
Also Read: Lahore Faces Alarming Surge in Contagious 'Pink Eye' Cases
An official notification stated, "In response to the increasing prevalence of Conjunctivitis/Pink Eye Infection among school children, the Competent Authority is pleased to announce the closure of all Public & Private Schools in the Province from Thursday, September 28, 2023, until Sunday, October 1, 2023." It further mentioned that schools would resume regular operations on Monday and adhere to standard operating procedures (SOPs) to mitigate the spread of the pink eye infection.
The notification also emphasized that all Chief Executive Officers (DEAs) in Punjab are instructed to ensure strict compliance with these orders.
Conjunctivitis, commonly known as pink eye, is an eye condition caused by infection or allergies. It typically improves within a few weeks without the need for medical treatment.
CM Naqvi, addressing the media following his school visit, highlighted the rapid spread of conjunctivitis in educational institutions. He noted that in each class, six to seven children were found to be affected by conjunctivitis. He mentioned that starting from Monday, strict SOPs would be enforced in all educational institutions across the province. Under these measures, teachers will conduct eye inspections of every child at the school entrance to contain the spread of conjunctivitis, also known as red or pink eye. Symptoms include redness, burning or gritty sensation, pus production sticking to lashes, itching, and watery eyes.