Bajwa and Faiz supported Imran up till their retirements: Sanaullah Rana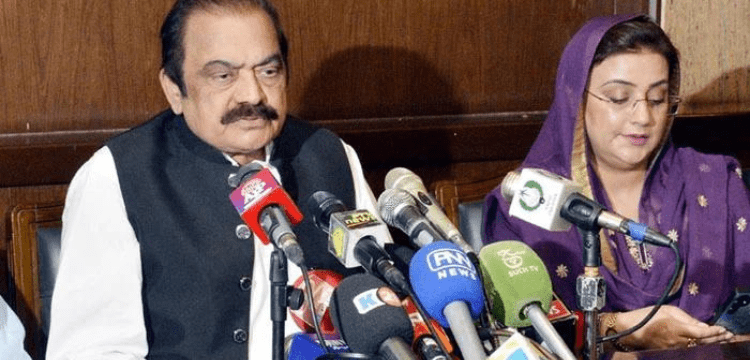 Former army head retired General Qamar Javed Bajwa and former Inter-Service Intelligence (ISI) Director-General Lieutenant-General Faiz Hameed, according to Interior Minister Rana Sanaullah, were "facilitating" PTI Chairman Imran Khan up to their retirements last year.
The minister stated yesterday while appearing on Geo News' "Naya Pakistan" programme: " Gen Bajwa or Gen Faiz Hamid used to facilitate him—this fact is obvious as day." His remarks mirrored those of party Senior Vice President Maryam Nawaz, who claimed on Thursday that the day of Gen. Bajwa's retirement, November 28, marked the beginning of the government's administration.
Furthermore, when he stated in his parting speech that the "army's meddling in politics for 70 years" made it the subject of criticism, the outgoing army chief confirmed the military's involvement in the nation's politics. He had subsequently declared that the military would "never engage in any political subject" on the same occasion.
Host Shahzad Iqbal questioned Sanaullah about his opinions on PML-N senior leader Maryam Nawaz's assertion that her party's administration will begin after November 28, 2022, as there would have been PTI supporters in place before that date.
"As you know, their (PTI's) facilitators got done in November [last year]," the minister replied. Before that, he received instructions on how to complete the long march, when to do it, and where to do it. Sanaullah replied in response to a query on the authority of the government: "The cabinet was ruling as well, Shehbaz Sharif sahab was also the prime minister; all affairs were [accordingly conducted] but he (Imran) was also enjoying facilitation."
Imran, the puppet, was being saved and forced to dance. He has been dancing since November 26. There was force behind his occasional extended marches and besiegements of Islamabad.  The PML-N leader stated Imran was forced to engage in "all agitation" and was "being supplied with all the consultation" in response to the query of how the facilitation was being provided.
The selection of the army chief, which had become a hotly debated "controversial" topic involving the government and the opposition, was then discussed by Sanaullah. He claimed that all of these aspects were "relevant to the appointment of the army chief" by pointing out the minute particulars of the PTI's lengthy march, such as the party caravan stopping multiple times along their route, "going back and forth," and "to reach on a certain date and not the other."
The minister responded, "Who informed you they were retiring," when the host inquired about the potential benefit to the suspected facilitators since they were "already retiring." They were not, under any circumstances, retiring. I told you what you asked, he said after pausing to consider his words.
"No, no, as the retirement date drew near, they had to retire. […] Speaking about the individual who has passed away at this time is not particularly [essential]. It is their (PTI's) doing; it was a different issue when they were in power, but don't stop insulting them now. After that, Sanaullah claimed that the reason his party "failed" Imran Khan's long marches in May and November of last year was because they were in power.