PCB Issues Injury Updates Of Naseem Shah, Mohammed Hasnain and Ihsanullah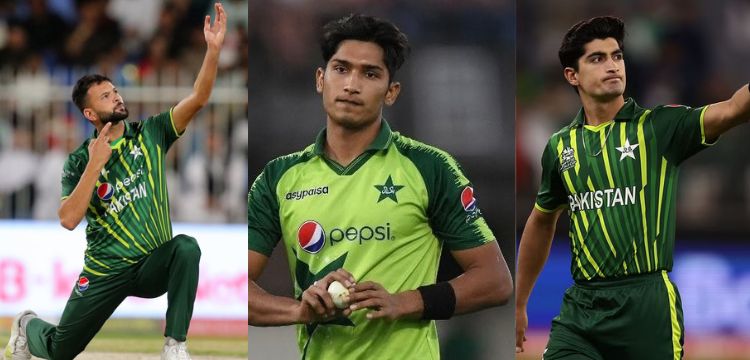 Pakistan Cricket Board provides update on the injuries of the three fast bowlers Ihsanullah, Mohammad Hasnain, and Naseem Shah:
Ihsanullah
Ihsanullah, who has represented Pakistan in one ODI and four T20Is, suffered an elbow injury. The 20-year-old has been sidelined from international cricket since his participation in Pakistan's ODI series against New Zealand at home in April of this year.
Also Read: Arshad Nadeem Out of Asian Games 2023 Due to Injury
Ihsanullah underwent surgery at a private hospital in Lahore, with a doctor flown in from England to perform the procedure in early September. Following the surgery, he wore an elbow brace for four weeks and received daily care from a doctor and a physiotherapist. His progress has been satisfactory, and the brace is scheduled to be removed at the end of the fifth week. Subsequently, he will commence rehabilitation at the National Cricket Academy in Lahore.
Mohammad Hasnain
23-year-old Mohammad Hasnain sustained an ankle injury while participating in the Sri Lanka Premier League in August. He traveled to England from Sri Lanka, where an MRI revealed the need for ankle rehabilitation. The rehabilitation process began on September 13th in England.
Naseem Shah
20-year-old Naseem Shah suffered an injury during the Asia Cup, which ruled him out of the ICC World Cup 2023. He underwent shoulder surgery during the previous week. Throughout the operation, his condition remained stable, and he was discharged from the hospital the following day.
Initially, Naseem will receive care from two physiotherapists during his rehabilitation at the hospital, and later, at the training ground and gym. Continuous monitoring will be in place throughout this entire period, with the doctor who conducted the surgery scheduled to see him again in the third week of October.