Pakistani Celebrities Beauty Transformation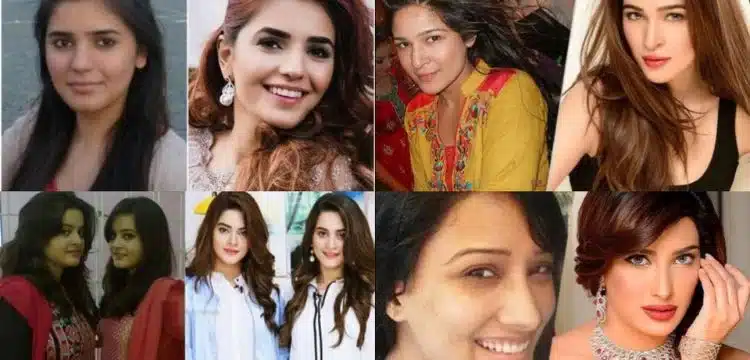 Glow up of Pakistani celebrities
Urwah and Marwa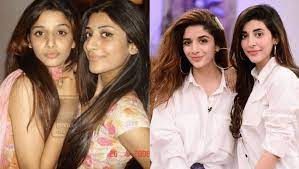 Urwah : 
UrwaTul Wusqua Hussain, also recognized by her stage name Urwa Hocane (born on July 2, 1991), is a Pakistani actress, model, and media personality. Her career in acting commenced in 2012 with her role as Rukhsana in the drama series "Khushboo Ka Ghar."
Urwa Hocane is most renowned for her portrayal of Meera in the television series "Udaari," a performance that earned her the Hum Awards for Best On-screen Couple alongside Farhan Saeed. She also received a nomination in the Hum Awards for Best Actress Popular for her role in the same series.
Mawra :

Mawra Hocane, whose real name is Mawra Hussain, is a popular Pakistani actress known for her work in Urdu television and films. She was born on 28 September 1992. Here is some more information about her career and notable projects:
1. Acting Debut: Mawra Hocane made her acting debut in 2011 with the drama serial "Khichari Salsa."
2. Bollywood Debut: She ventured into Bollywood with the romantic tragedy film "Sanam Teri Kasam" in 2016.
3. Pakistani Film Debut: Mawra made her debut in the Pakistani film industry with the comedy drama "Jawani Phir Nahi Ani 2" in 2018.
4. Notable TV Roles: Mawra Hocane has received acclaim for her performances in various television dramas, including:
– Nadia in "Ek Tamanna Lahasil Si" (2012)
– Haya in "Aahista Aahista" (2014)
– Sammi in "Sammi" (2017)
– Anaya Aziz in "Sabaat" (2020)
– Mehrbano in "Qissa Meherbano Ka" (2021)
5. Awards and Nominations: She has been recognized for her acting talent and has received nominations for Hum Awards in the "Best Actress Popular" category for her roles in "Sammi" and "Qissa Meherbano Ka."
Mawra Hocane is a prominent figure in the Pakistani entertainment industry known for her acting skills and contributions to both television and film.
Maya Ali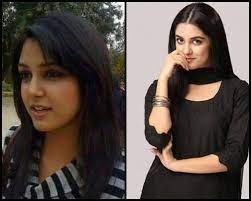 Maya Ali's birth name is Maryam Tanveer Ali, Born on July 27, 1989, in Lahore, Pakistan.  She is a renowned Pakistani actress celebrated for her work in both high-budget films and television serials. Throughout her career, she has consistently delivered outstanding performances, earning her numerous accolades.
Award: Maya Ali has garnered a massive fan following and received nominations for prestigious awards like the Lux Style Award.
Acting Debut: She made her acting debut with the Pakistani TV serial "Durr-e-Shahwar" (2012) in which, she played the role of 'Mahnoor Sami.'
Lead Role: Maya's first serial in the lead role was with Geo TV's "Aik Nayee Cinderella" (2012-2013) in which, she was seen as 'Meesha/Cinderella.'
Aina Jafery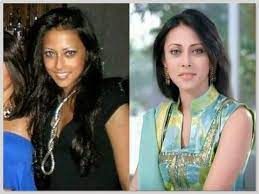 Ainy initially began her career at an advertising firm. Subsequently, upon her arrival in Pakistan, she transitioned into working in television dramas.
Her television journey commenced with her debut in the teen drama "Dreamers" on AAG TV.[2] This was followed by her role in the drama series "Zip Bus Chup Raho" in 2011, which aired on Geo TV. In 2012, Jaffri took on a leading role in Hum TV's production "Aseerzadi."[3] In 2013, she marked her entry into the film industry with a role in Humayun Saeed's movie "Main Hoon Shahid Afridi."[4]
Ainy Jaffri has also lent her voice to the primary character, Jiya, in the animated series "Burka Avenger."[5] Additionally, she featured in the 2017 film "Balu Mahi" alongside Osman Khalid Butt, directed by Haissam Hussain.[6] In 2018, she graced the screen in the drama series "Tajdeed e Wafa" on Hum TV.
Momina Mustehsan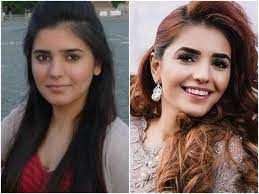 Momina Mustehsan, born on September 5, 1992, is a Pakistani singer-songwriter and musician. She has emerged as one of Pakistan's most renowned and prominent celebrities.[1][2] In 2017, the BBC recognized her as one of the 100 most influential women, and in the subsequent year, Forbes included her in its "30 Under 30" Asia list, alongside nine other accomplished Pakistanis.[3][4] In that same year, Stony Brook University also celebrated her achievements by naming her among the "40 most successful graduates."[5]
Born in Quetta and raised in Islamabad, Momina Mustehsan pursued a double major in Biomedical Engineering and Applied Mathematics at Stony Brook University.[6][7] Her breakthrough came as a co-singer and songwriter in Farhan Saeed's song "Pee Jaun," and she later gained recognition for her performance in the acclaimed track "Awari" featured in the Indian thriller film "Ek Villain" (2014).
Ayesha Omar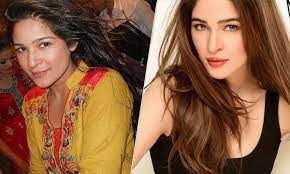 Ayesha Omar, born on October 12, 1981, is a Pakistani actress and YouTuber. Widely regarded as a fashion icon in her home country, Ayesha Omar holds the status of being one of Pakistan's most beloved and highly compensated actresses.[2][3][4][5][6][7][8][9][10]
In 2012, she launched her first singles, "Chalte Chalte" and "Khamoshi," which, despite achieving commercial success in Pakistan, received a mixed response from critics. Omar's musical endeavors earned her the Lux Style Award for Best Album.[11] Her foray into the film industry began with a leading role in the successful romantic-comedy "Karachi Se Lahore" in 2015, and she subsequently played supporting roles in the war film "Yalghaar" (2017) and the drama "Kaaf Kangana" (2019).[12]
Sadaf Kanwal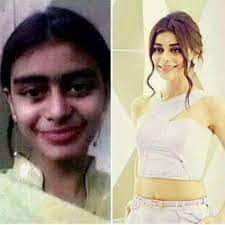 Sadaf Sabzwari, formerly known as Kanwal (Urdu: صدف کَنوَل[1]), is a Pakistani actress and model.She is known for her portrayal of Sharmeen Mukhtiyar in the 2017 film "Balu Mahi."In her modeling career, Kanwal has made significant strides and has earned nominations for prestigious awards, including the Lux Style Awards and Hum Awards. Additionally, she took on a supporting role in the period drama "Alif" in 2019.
Humaima Malik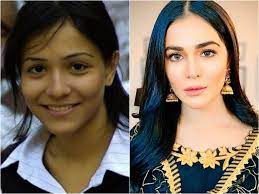 Humaima Malick, born on November 18, 1987, is a Pakistani actress known for her work in both Pakistani films and television series. She gained recognition for her roles in "Ishq Junoon Deewangi" as Pares Usmani and the social drama "Bol" in 2011.
Humaima's career began when she entered the world of modeling at the age of fourteen, initially through a Unilever Pakistan campaign. Her debut on the fashion runway was with fashion designer Deepak Perwani when she was just fourteen years old. Following that, she has participated in various fashion shows, collaborating with numerous designers.[citation needed]
Malick made her acting debut in the television serial "Ishq Junoon Deewangi." Subsequently, she appeared in other television dramas such as "Barish Kay Ansoo," "Tanveer Fatima (B.A)," "Talluq," and "Akbari Asghari."[citation needed]
Mansha Pasha
Mansha Pasha, born on October 19, 1987, is a Pakistani actress and television host. She is recognized for her supporting roles in numerous television series that received both critical acclaim and commercial success. These series include "Shehr-e-Zaat" (2012), "Madiha Maliha" (2012), "Zindagi Gulzar Hai" (2013), "Virasat" (2013), and "Mera Naam Yusuf Hai" (2015). In the ARY Digital comedy series "Aangan" (2017), she portrayed the character of Zoya.
Mansha Pasha ventured into the world of films with her debut in the romantic comedy "Chalay Thay Saath" (2017). However, it was her performance in the crime thriller "Laal Kabootar" (2019) that garnered critical acclaim, leading to her nomination for Best Actress at the Pakistan International Screen Awards. She has also been honored with a Hum Award for her contributions to the entertainment industry.
Sarwat Gillani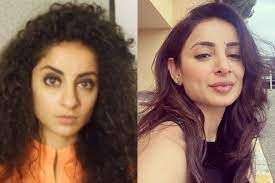 Sarwat Gilani, born on 22 December 1982, is a Pakistani model and actress known for her work in film, television, and as a voice artist.[1]
Film Career:
Gilani's entry into the world of cinema began with her debut in the movie "Jawani Phir Nahi Aani," where she portrayed the role of a pregnant Pashtun woman alongside Vasay Chaudhary.[2] She also made her directorial debut on stage with "Kiski Topi Kiskay Sar."[3] Additionally, she appeared in "Jawani Phir Nahi Ani 2," reprising her character as Gul, once again opposite Vasay Chaudhry.[4]
Personal Life:
Sarwat Gilani, born on 22 December 1982, comes from a Syed Gilani family through her father, while her maternal grandfather, Ghulam Moinuddin Khanji, held the title of Nawab of Manavadar and had Pashtun ancestry.[2][7] In August 2014, she tied the knot with a cosmetology surgeon and actor, Fahad Mirza. Gilani became a mother in 2015, giving birth to their son, Rohan Mirza.[8] Subsequently, in June 2017, she welcomed another son into the world, named Araiz Muhammad Mirza.[9]
Saba Qamar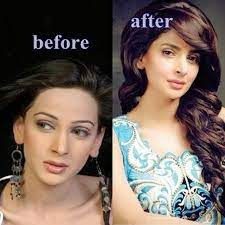 Saba Qamar Zaman, born on 5 April 1984 and professionally known as Saba Qamar, is a Pakistani actress primarily active in Urdu films and television. She has garnered numerous awards, including the Lux Style Awards and Hum Awards. Saba Qamar stands as one of Pakistan's most popular and highest-earning actresses. In recognition of her contributions, the Government of Pakistan honored her with the Tamgha-e-Imtiaz in 2012 and the Pride of Performance in 2016.
Saba Qamar initially gained significant attention in the media for her portrayal of Fatima Jinnah in the historical drama "Jinnah Ke Naam" (2009). This pivotal role marked the beginning of her success, which was further solidified through her involvement in various television series. Notable among these are the pre-partition drama "Dastaan," the melodrama "Uraan" (both in 2010), romantic dramas like "Maat" and "Pani Jaisa Piyar" (both in 2011), the social drama "Thakan" (2012), the thriller "Sannata," and the romantic "Bunty I Love You" (both in 2013), family drama "Digest Writer" (2014), crime thriller "Sangat" (2015), and "Besharam" (2016). She received Best Actress awards and nominations for her remarkable performances in each of these projects.