Wahab Riaz's first look as Minister went viral.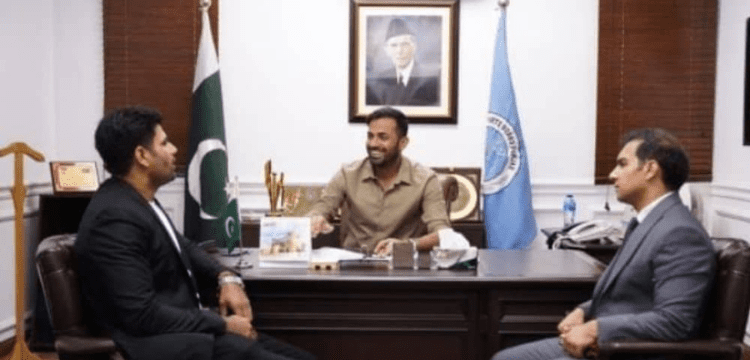 Wahab Riaz, a veteran Pakistani pacer, was sworn in as the caretaker Provincial Minister of Sports and Youth Affairs in Punjab today at the National Hockey Stadium
Wahab Riaz, the caretaker minister, enthusiastically assumed his new role and expressed his commitment to sports development in the region.
He was briefed on the current state of sports in the province during a meeting with the Secretary of Sports Punjab, Shahid Zaman, and the DG of Sports Punjab, Muhammad Tariq Qureshi.
Wahab Riaz, who played for Peshawar Zalmi in PSL 8, emphasised the importance of encouraging youth participation in sports and other activities.
Wahab Riaz emphasised that sports instill discipline and play an important role in character development, and he promised that all available resources would be used to develop sports.
Read More: Minister Railways, Aviation calls on Punjab Governor
The 37-year-old pacer added that he would work with everyone to promote sports in the province and would do his best to bring about positive changes in sports during his tenure.
Last month, it was reported that Najam Sethi asked Naqvi to postpone Wahab Riaz's inauguration as caretaker sports minister until after the PSL concluded.