Pakistan Cricket Team Warmly Welcomed in India for World Cup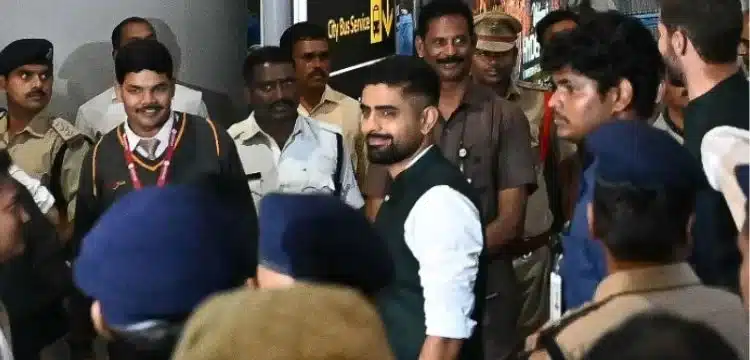 Leading Pakistani cricketers, including captain Babar Azam, Mohammad Rizwan, and Shaheen Shah Afridi, expressed their appreciation for the warm reception they received upon their arrival in India.
The Men in Green, who arrived in Hyderabad on Wednesday amid heightened security measures, are gearing up for the seven-week-long World Cup. This marks their first visit to their neighboring country since 2016.
Enthusiastic crowds, held back by security personnel, erupted in cheers and chants of "Babar Azam" as the Pakistani team landed at the airport in the southern Indian city. The ODI tournament is scheduled to kick off on October 5.
Taking to Instagram, Babar Azam conveyed his gratitude, saying, "I'm truly touched by the overwhelming love and support we've received here in Hyderabad!"
Babar Azam and Shaheen Shah Afridi both posted messages on Instagram after their arrival in India on September 27. In contrast, star fast bowler Shaheen Afridi expressed his excitement about the warm welcome, stating on his social media, "The reception has been fantastic so far!"
Additionally, Mohammad Rizwan was left "astonished" by the warm reception they received from fans upon their arrival in Hyderabad.
Amazing reception from the people here. Everything was super smooth. Looking forward to the next 1.5 months 😇

— Muhammad Rizwan (@iMRizwanPak) September 27, 2023
It's worth noting that Pakistan and India have a history of political tensions and are long-standing adversaries. They typically compete against each other only in international cricket tournaments, often held in neutral venues.
Also Read: Pakistan Cricket Team Sets Off for World Cup 2023 with High Hopes
The World Cup consists of 48 matches played across 10 different venues over 46 days, with the final set for November 19. Pakistan is scheduled to participate in two warm-up matches, one against New Zealand on September 29 and another against Australia on October 3, both in Hyderabad. However, due to the expected large crowds for a Hindu festival on Friday, the Board of Control for Cricket in India (BCCI) announced that the first warm-up match will be held behind closed doors, following advice from local security agencies.
Pakistan's World Cup campaign begins with a match against the Netherlands, followed by the highly anticipated clash against arch-rivals India at the Ahmedabad Stadium, which can accommodate over 130,000 spectators, on October 14.
India is set to begin their campaign against Australia on October 8, leading up to the eagerly awaited match against Pakistan.
Visas for the Pakistan team to travel to India were reportedly issued just 48 hours before their scheduled departure, as reported by both Indian and Pakistani media. However, there has been no response from India regarding visa arrangements for Pakistani fans.