October 2023 Pricing For Suzuki Swift In Pakistan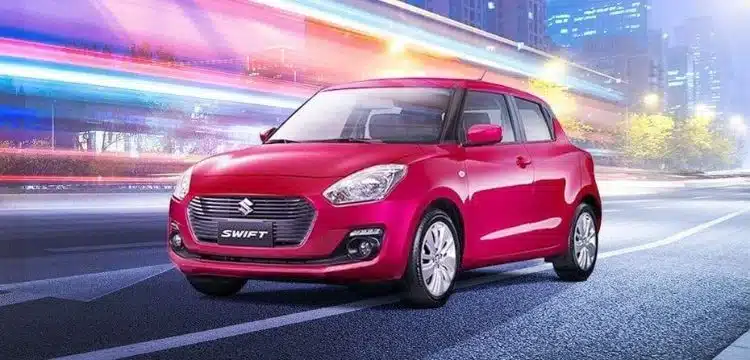 Hatchbacks dominate the Pakistani market due to their affordability, excellent fuel efficiency, and ease of parking. Suzuki, the leading automaker in the country, holds a significant market share, and its fourth-generation Swift has gained popularity for its modern design and advanced features.
The Suzuki Swift is currently offered in three variants: GL, GL (CVT), and GLX (CVT), and is available in six colors: Solid White, Silky Silver, Mineral Grey, Phoenix Red, Black, and Cerulean Blue.
Read more : Suzuki Swift Current Price In Pakistan In 2023
The GL variant is equipped with a DOHC 16-valve VVT engine paired with a 5-speed manual transmission. On the other hand, the GL (CVT) variant features the same engine but adds a Continuously Variable Transmission (CVT). The GLX (CVT) variant also shares the same engine and transmission as the GL (CVT), with identical specifications for maximum output and torque.
Suzuki Swift Exterior:
The Suzuki Swift boasts various features, including keyless smart entry, a bold chrome-accented grille, polished alloy wheels, muscular body lines, and pillar-mounted back-door handles. It also comes with Daytime Running Lamps (DRL) and sensor-enabled, adjustable LED projector headlights.
Suzuki Swift Interior:
Inside the Swift, you'll find a D-Shaped Steering wheel, cylindrical gauges in the center console, and a 9-inch screen for entertainment purposes. The infotainment system supports Apple and Android phone mirroring as well as navigation.
Performance:
The Swift is powered by a 1.2-liter petrol engine with VVT technology for improved power and fuel efficiency. The Continuously Variable Transmission (CVT) provides better control and offers a sports mode for a more dynamic driving experience. The direct-response steering enhances precision in handling, and the Heartect next-generation platform ensures a high-rigidity frame for enhanced crash safety.
Suzuki Swift Latest Price in Pakistan (July 2023):
– Suzuki Swift GL: PKR 4,256,000
– Suzuki Swift GL (CVT): PKR 4,457,000
– Suzuki Swift GLX (CVT): PKR 4,960,000