Non-Bailable Warrants Issued To Arshad Sharif's Wife and Producer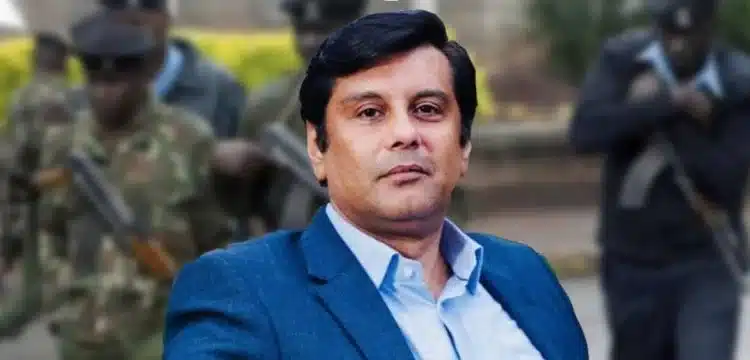 On Saturday, a district and sessions court issued arrest warrants that cannot be revoked for Summaiya Arshad, the wife of the murdered journalist Arshad Sharif, and the producer Ali Usman. These warrants were issued because they did not appear in court even after being summoned.
Arshad Sharif, a well-known anchorperson, had left the country in August 2022 to avoid arrest, as he was facing multiple charges, including sedition, related to an interview with PTI leader Shahbaz Gill, during which controversial remarks were made. Gill served as a special assistant to the prime minister from 2018 to 2022.
Read more : Arshad Sharif Daughter Aleeza Follows in Father  Footsteps, Becomes Reporter
Citing threats to his life, Sharif initially moved to Dubai in August and later relocated to Kenya. However, he was killed under mysterious circumstances on the outskirts of Nairobi on October 23.
The murder investigation by local authorities in Kenya suggested possible involvement from within Sharif's circle, indicating that he might have been under surveillance for some time.
Additionally, a separate case is ongoing in the Supreme Court after Chief Justice of Pakistan Umar Ata Bandial initiated suo moto proceedings regarding the investigation into Arshad Sharif's murder in December 2022. During the last hearing in July 2023, the court rejected a plea from Sharif's mother to expand the scope of the investigation to include five individuals believed to have knowledge about those responsible for the assassination. This list included former prime minister and Pakistan Tehreek-e-Insaf chief Imran Khan.
The court clarified that it was merely assisting in the investigation into Arshad Sharif's assassination and did not have the authority to direct the investigation's course. They directed the petitioner to approach the Special Joint Investigation Team (JIT) instead.
During the hearing, Chief Justice Bandial emphasized the importance of understanding why Sharif had gone to Kenya and called for an examination of the vehicle in which the journalist was killed.
Meanwhile, the Ministry of Foreign Affairs informed the court that progress in the case was dependent on reaching a mutual cooperation agreement with Kenya, and the Attorney General's Office stated that communication with Interpol was underway.
Initially, Sharif's lawyer had approached the Islamabad High Court to request the formation of a judicial commission to ensure a fair and transparent investigation.