No Opening Ceremony For ICC Cricket World Cup 2023?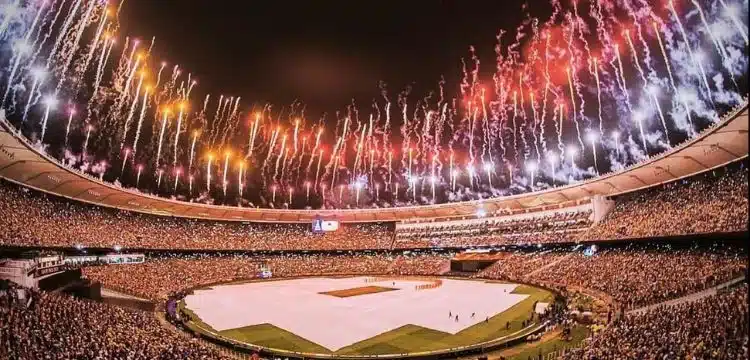 Indian media has just delivered some disappointing news for cricket enthusiasts eagerly awaiting the ICC Cricket World Cup 2023. Scheduled to commence on October 5th at the iconic Narendra Modi Cricket Stadium in Ahmedabad, the highly anticipated event will not feature an opening ceremony as initially anticipated.
No opening ceremony for ICC Men's Cricket World Cup. #CWC23

— Subhayan Chakraborty (@CricSubhayan) October 2, 2023
No opening ceremony in World Cup 2023. [RevSportz] pic.twitter.com/cgXhXJ909h

— Johns. (@CricCrazyJohns) October 2, 2023
Cricket fans had been eagerly looking forward to the grand spectacle of the opening ceremony set to take place at the Narendra Modi Stadium on October 4th. However, it has been revealed that the opening ceremony has been abruptly canceled, citing unspecified reasons for this unexpected turn of events.
Updates on Ceremony in this World Cup 2023: (Dainik Jagran)

– No Opening ceremony.
– There will be Closing ceremony or
– A ceremony before IND vs PAK match.
– The presentation have been given to BCCI officals. pic.twitter.com/uGFhM2iqVy

— CricketMAN2 (@ImTanujSingh) October 2, 2023
Previously, the opening ceremony was planned to coincide with the captains' day, where all 10 team captains were expected to be in attendance. In a twist of fate, Indian media reports confirm that captains' day will proceed as originally scheduled.
Also Read: Two Pakistanis Join Star-Studded World Cup 2023 Commentators Panel
In a break from tradition, the absence of an opening ceremony raises questions about whether there will be a closing ceremony or perhaps a special event leading up to the highly anticipated clash between India and Pakistan.
Cricket World Cup 2023 Opening Ceremony preparations at Narendra Modi Stadium, Ahmedabad late night. pic.twitter.com/z6DBqqnkdE

— Baljeet Singh (@ImTheBaljeet) September 27, 2023
Earlier reports had suggested that the Board of Control for Cricket in India (BCCI) had spared no expense to ensure the opening ceremony would be a memorable extravaganza. Bollywood's A-listers, including Ranveer Singh, were slated to deliver electrifying performances, and renowned artists such as Shreya Ghoshal, Arijit Singh, and the legendary Asha Bhosle were expected to grace the stage with their musical talents.
Despite this unexpected development, cricket fans worldwide can still look forward to the ICC Cricket World Cup 2023, which will kick off with a thrilling match between the finalists of the previous edition, England and New Zealand. While the absence of an opening ceremony may leave fans disappointed, the excitement of the cricketing action remains undiminished.