Muneeb Butt gets his arms waxed , reveals an interesting reason.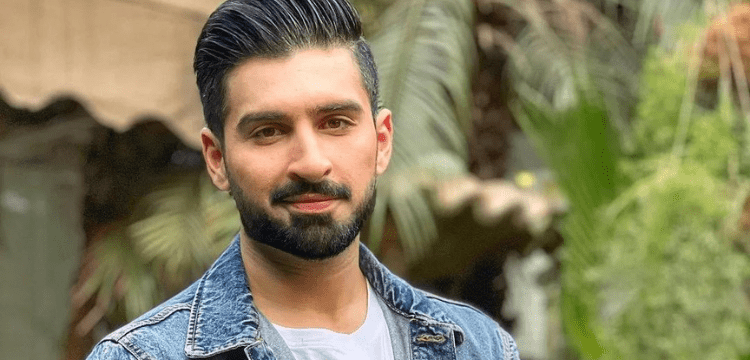 Muneeb Butt has gone through a transformation for his new drama Sar-e-Rah, in which he plays an intersex assistant commissioner, beginning with waxing his arms and getting his brows done.
Butt plays an unusual role in the limited series, which also stars Saba Qamar, Hareem Farooq, Saboor Aly, and Sunita Marshall. A lot happened behind the scenes for the actor to play a role unlike any other he had ever played.
Butt and the Sar-e-Rah cast appeared on Nida Yasir's Good Morning Pakistan on Friday, where they promoted the show by sharing their set experiences and how they got their roles. Qamar, Farooq, and Marshall talked about their experiences as Rania, Mariyam, and Mizna, respectively.
"I ended up shooting other dramas before I chose Sar-e-Rah. I was so excited, almost overjoyed, that I had prepared for the role for so long that I couldn't do anything else during this time. So my focus remains on just one thing because the character is so sensitive that I wouldn't have been able to justify leaving something out," Butt explained.
Yasir asked him how he got the role and how he was convinced to pay Sarang as he has always played "hero" type of characters in the past. "Initially I wasn't offered this character. Within this play, I was offered another role," said Butt. "So after each episode comes to an end, the last scene from it connects with the upcoming one. Just like that I was offered an episode, I read it and then decided I won't do it because I couldn't understand the character," Butt said.
"I have this habit to carry on with it till the end to see the result. So when my character came to an end this [Sarang] character came in. I then called our director, Ahmed Bhatti, for this role and he said it's not for me but still I told him that I want to play this character and asked for the script."
After reading the script, he told the director that they could cast anyone they wanted, but he wanted to audition for the role. "So at night we packed up for this other project, I came back to my hotel in Lahore, I had this heavy beard so that I looked like a 30-year-old, proper man who has two wives. For that, I had facial hair. So I prepared for the audition, and by midnight, I was editing the clip and adding music for effect. I then sent it to the director by 5 a.m., and Abdullah Seja and I went to bed." By the next morning, he had received word that he had been cast in the role.
"When I auditioned, I had a full beard. A lot of people were in disagreement because of the beard but I said chill and trust me. If I'm taking such a daring step then I know it's not a normal character, it's way more than that and different. So to take such a step I knew I had to prepare a lot for it. If you're jumping into a war, you need to prepare enough to come back with a win. So I decided that I will prep for my role."
Butt, who agreed with Qamar, added that he had previously rejected a number of roles because he was afraid of being mocked for doing them. But now he's taking "brave steps" by not being afraid of his work and attempting to show the actor within.
"Permit me to explain why actors are not considered. The producer is unable to comprehend that an actor can play multiple roles. I mean, no one told me I had to get my arms waxed and my eyebrows done for this project, but I did. It's a torturous process, and I finally understand why. When I was getting my brows done it felt like I was getting operated on," he laughed.