Happy birthday to Naseem Shah from Urvashi Rautela.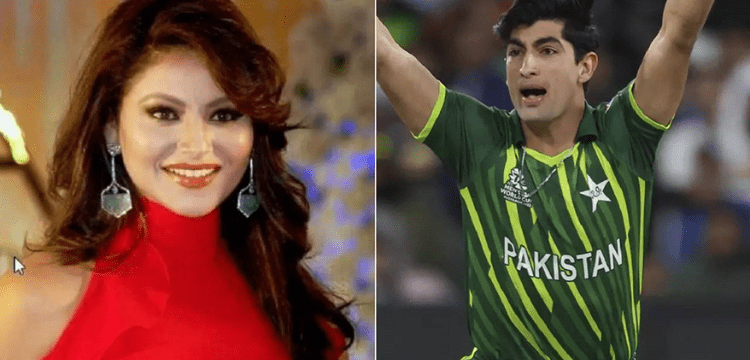 The actress also expressed her congratulations to Naseem on receiving an honorary DSP rank from the Balochistan Police.
The bowler joined his Quetta Gladiators colleagues in cutting cake to mark his 20th birthday today.
On Naseem's Instagram photo, in which the pacer wished Shadab Khan luck on his nuptials, Rautela left a comment. The actress also gave Naseem her congratulations on receiving an honorary DSP rank from the Balochistan Police.
"Cheers to Naseem Shah turning 40. Best wishes for receiving the honorary DSP rank "Rautela said.
Additionally acknowledging Rautela's salutation, Naseem said, "Thank you."
Instagram users must follow Urvashi in order to read her post; otherwise, they won't be able to see her comment on Naseem Shah's most recent image.
Last year, Rautela had shared an Instagram reel featuring Pakistan pacer after the Asia Cup game on September 4.
In a video, Rautela could be seen enjoying the India-Pakistan match and there were some glimpses of Naseem Shah in the video shared by her with Atif Aslam's 'Koi Tujhko Na Mujhse Chura Le' playing in the background.
The clip went viral, and she deleted it, but users ensured it went viral.
Naseem was asked about the Indian actress, to which he replied that he is unaware of Urvashi.
"I am smiling at your question. I don't know who Urvashi is. I only focus on my match. People usually send me videos but I have no idea. I have nothing special in me but I thank people who come to watch cricket and give a lot of respect," Naseem said.
Meanwhile, Urvashi Rautela clarified the viral video on her Instagram story, stating it was nothing but "fan made cute edits." She further asked the media to refrain from making any news out of it.
Urvashi unfollowed the Pakistan pacer after he revealed he doesn't know who she truly is, but Pakistanis were quick to notice that she was following Naseem Shah on Instagram.
Now it appears that they are both aware of one another and friendly with one another.