FIA Reveals Pakistani Businessmen Caught Scamming Chinese Investor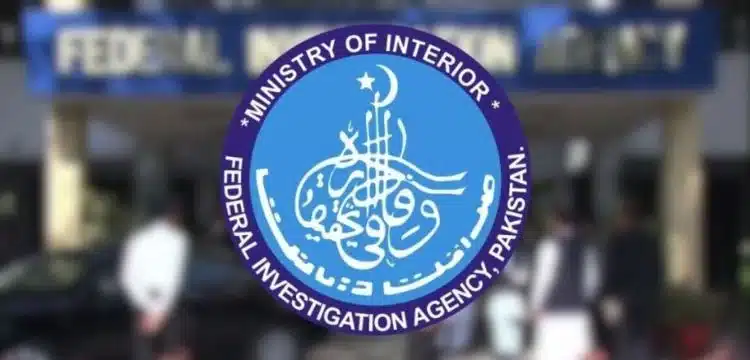 The Federal Investigation Agency (FIA) has officially filed a First Information Report (FIR) against Pakistani businessmen on charges of deceiving a Chinese investor.
FIR No. 33/2023, issued by the FIA's Commercial Banks Circle, stems from a comprehensive inquiry into the complaint made by Chinese national Zhi Cheng Li. The FIR invokes sections 409, 420, 468, 471, and 109 of the Pakistan Penal Code.
Zhi Cheng Li, also known as Donald, had been a victim of fraudulent activities perpetrated by his Pakistani associates. He had long been urging the Director General of FIA to take action on his pending complaint against these associates, which had languished for several years within the FIA.
Also Read: KIA Lucky Motors & KIA Murree Road Accused Of Scamming
The FIR outlines that Cheng Li (Donald) holds a 45 percent stake in a company called M/s NASYS Intl Co (Pvt) Ltd., alongside two other partners, Malik Naveed Asghar and Malik Rehan, who possess 45 percent and 10 percent shares, respectively.
Naveed and Rehan, in a fraudulent and dishonest collaboration with bank officials, particularly Haris Khan, illicitly opened company accounts in Summit Bank and Askari Bank using forged signatures of the complainant, Zhi Cheng Li.
The first bank account, bearing number 1-4-6-20311-714-114447 for M/s NASYS Intl Co (Pvt) Ltd., was established by Malik Naveed Asghar and Malik Rehan on August 20, 2015, at Summit Bank's F-11 branch in Islamabad. They did this by employing Zhi Cheng Li's fake and forged signatures, with the assistance of Haris Khan, the bank's Business Development Officer. The account recorded a total credit turnover of Rs. 7,675,000 and a total debit turnover of Rs. 7,655,936.
Also Read: FBR Arrests Ring Leader in Fake Invoice Scam Case
Subsequently, the accused, Malik Naveed Asghar and Malik Rehan, proceeded to open a second bank account in another financial institution, once again using forged signatures of Zhi Cheng Li. Haris Khan, who was then employed as a BDO at Askari Bank, was complicit in this fraudulent activity. The account registered a total credit turnover of Rs. 11,320,500 and a total debit turnover of Rs. 9,438,965. It is important to note that when these alleged bank accounts were opened, Zhi Cheng Li was not present in Pakistan, as indicated in the FIR.
Furthermore, the FIR mentions the existence of several parallel bank accounts, which were fraudulently and dishonestly established in the name of NASYS International, with credit and debt turnovers amounting to hundreds of millions of rupees. The FIR asserts that, prima facie, the actions of the accused individuals constitute the offenses of cheating, fraud, and criminal breach of trust. Consequently, a case under sections 409, 420, 468, 471, and 109 of the Pakistan Penal Code is being registered against Haris Khan, Malik Naveed, and Malik Rehan. The involvement of any other individuals, if implicated, will be determined during the course of the investigation, as stated in the FIR.
Despite the relevant Investigation Officer sealing the FIR and efforts to apprehend the accused, Naveed and Rehan were able to secure pre-arrest bail.
In his complaint, Zhi Cheng Li highlights that the issue traces back to 2015 when China HBP secured a $178 million contract from OGDCL for the supply of processing gas units, an LPG recovery plant, and related facilities at the Nashpa oil field in Khyber Pakhtunkhwa's Karak district. China HBP had a sole agency agreement with M/s NASYS International Limited (Hong Kong) for the Pakistani market, a company established by Mr. Zhicheng Li.
To execute the project, Li, along with his Pakistani partners Naveed Asghar and Rehan Azam, established a local company, M/s NASYS International Co. (Pvt.) Limited, with Li Donald owning 45 percent, Naveed 45 percent, and Rehan 10 percent.
Upon discovering the situation in October 2017, Li filed a complaint with the FIA, which remained unresolved for over three years until it was closed in 2020. He then requested the reopening of the inquiry and provided all relevant facts to the new investigating officer.
Zhicheng Li emphasizes that from 2017 until now, he has exhausted all possible legal avenues, including regulatory bodies and investigative authorities such as the courts, SECP, FIA, and NAB, all without success. He further notes that the Chinese Embassy is aware of his case and expects justice to be served.