CJP Isa Requests Feedback On Criteria For Judges' Appointments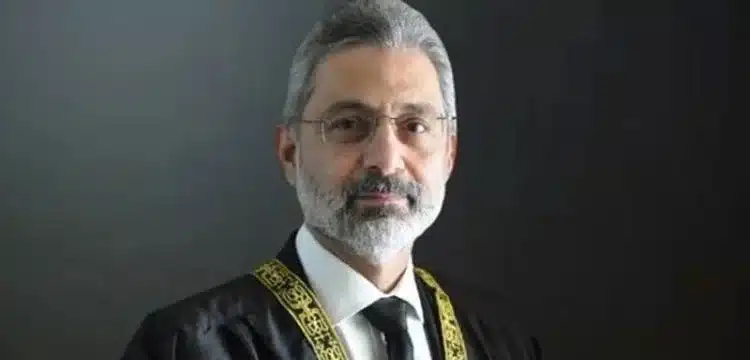 As the chairman of the Judicial Commission of Pakistan (JCP), Chief Justice of Pakistan Qazi Faez Isa has reached out to all 28 JCP members, seeking their input on whether candidates for the appointment of judges to superior courts should undergo interviews. The chief justice emphasized his commitment to fulfilling the collective responsibility of the commission in this regard.
The letter specifically addresses the appointment of judges to high courts, with no mention of criteria for Supreme Court judges. Currently, there are two vacant seats for Supreme Court judges, and disagreements among senior Supreme Court judges regarding their appointment have persisted for the past five years.
Read more : Cjp Qazi Faez Isa Imposes Fine On Lawyer For Court Time Wastage
There is a possibility that the commission may consider amending Rule 3 of the JCP Rules, which currently allows chief justices to initiate nominations within the commission. Supreme Court Justice Athar Minallah has previously argued that this rule grants excessive power to chief justices without clear, predetermined criteria for nominations, rendering it inconsistent with the Constitution.
Justice Isa had previously raised concerns about Rule 3 of the JCP Rules in January 2022. These concerns centered on the Constitution's Article 175-A, which he believed did not permit the Chief Justice of Pakistan to exercise unchecked discretionary authority in nominating high court judges for the Supreme Court.
A constitutional petition has also been filed by former Sindh High Court Bar Association president Salahuddin Ahmed, advocating for the nullification of Rule 3 of the JCP Rules, 2010, and a restructuring of the appointment process for superior judiciary judges based on principles of seniority for the judiciary's effective operation in the interest of justice.
Meanwhile, the Parliamentary Committee on Judges Appointment is already conducting interviews for high court judge candidates. The majority of JCP members are in favor of having the right to initiate nominations for judge appointments.