Arshad Nadeem's Remarkable Journey of World Championships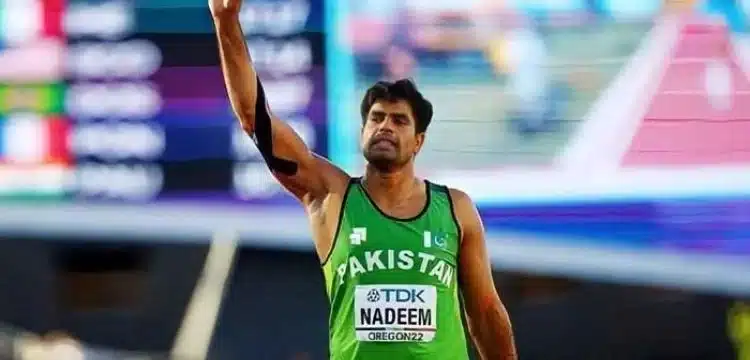 Arshad Nadeem was born in Mian Channu, Khanewal, Punjab to a Punjabi family. From his early school years, Arshad was a highly versatile athlete. Though he experimented in all of the sports available at his school — cricket, badminton, football, and athletics — cricket was his passion, and he quickly found himself competing in district-level tape-ball events. Arshad drew Rasheed Ahmad Saqi's attention during an athletics competition when he was in grade seven. Saqi had a track record of producing athletes in the division, and he quickly took Arshad under his wing.
Arshad tried shot put and discus throw before settling on javelin throw. Gold medal in javelin throw at successive Punjab Youth Festivals and an inter-board meet catapulted him into the national arena, attracting offers from all of the top domestic athletics teams, including the Army, Air Force, and WAPDA. His father, Muhammad Ashraf, encouraged him to participate in javelin throwing.
Arshad Nadeem made his Olympic debut, representing Pakistan at the 2020 Summer Olympics, which were held in 2021. As a result, he became Pakistan's first track and field athlete to qualify for the Olympics. According to his father, Arshad was not even supplied with a suitable training facility before to competing in the Olympics. Arshad trained in the courtyards and alleys of his own home and is thought to have gotten no financial aid from the Pakistani government after qualifying for the Tokyo Olympics.
He qualified for the men's javelin throw final of the 2020 Tokyo Olympics on August 4, 2021. He became the first Pakistani to qualify for the finals of any track and field event in Olympic history. With a throw of 84.62 meters, he finished sixth in the men's javelin throw event.
World Athletics Championships
Nadeem trained in South Africa under the direction of world athletic coach Terseus Liebenberg from March 2022 until the start of the world championships. The Athletics Federation of Pakistan organized the training.
Arshad Nadeem represented Pakistan as the single representative at the 2022 World Athletics Championships in Eugene, Oregon, USA, in July 2022. With a throw of 86.16m, he finished fifth in the final.
Commonwealth Games
He won a gold medal for Pakistan at the 2022 Commonwealth Games on August 7, 2022. Despite his injuries, he broke the games record with a throw of 90.18m in his sixth attempt, breaking World Champions Anderson Peters' attempt of 88.64 in the competition and became the first South Asian to do so. This was Pakistan's first Commonwealth Games gold medal in athletics since 1962.
Arshad Nadeem Wins Silver At World Athletics Championship
Islamic Games
He earned another gold medal for Pakistan five days later, on August 12, 2022, in the 2021 Islamic Solidarity Games. With his throw of 88.55m, he set a new game record.
Treatment for an injury
Arshad Nadeem travelled to the United Kingdom on December 1, 2022, to receive treatment for his wounded elbow and knee joint. The Pakistan Athletics Federation arranged for him to be treated at the Spire Cambridge Lea Hospital. Following a ten-day rehabilitation and physiotherapy session, he will need another four to six weeks to fully recover.
Pakistan's National Games and a knee injury
Arshad Nadeem competed in the Pakistan National Games and earned a gold medal in the javelin throw event. However, he sustained a knee injury as a result of the subpar surface, ruling him out of the Asian Athletics Championships. The head of the Athletics Federation of Pakistan (AFP), Akram Sahi, criticised WAPDA for compelling Arshad Nadeem to compete in the National Games.
Athletics World Championships
Arshad Nadeem earned a silver medal with a throw of 87.82m at the 2023 World Athletics Championships in Budapest. This was Pakistan's first World Athletics Championships medal. During the tournament, he also qualified for the Summer Olympics in 2024.