Actress Minal Khan Celebrates Joyous Baby Shower Ahead of Motherhood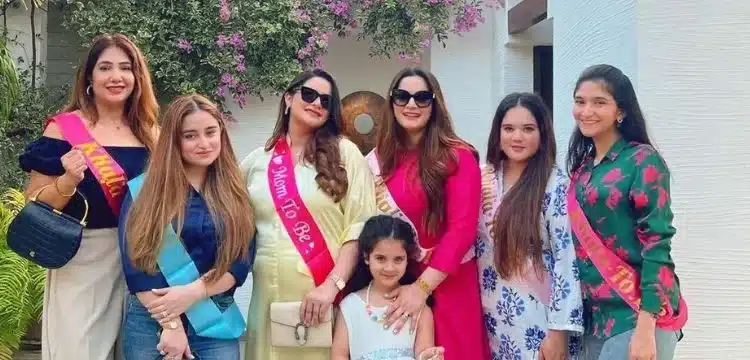 Pakistani actress Minal Khan, renowned for her outstanding performances on the screen, is stepping into a thrilling new phase of her life as she embarks on the path to motherhood. The gifted artist, who exchanged vows with Ahsan Mohsin Ikram, is eagerly anticipating the arrival of her first child, much to the joy of her devoted fans and well-wishers.
Recently, the expectant mother took to her Instagram to share a heartfelt glimpse of her joyous baby shower celebration, providing a window into the affection and excitement surrounding this momentous event.
Also Read: Mother Throws New Born Baby From Sixth Floor
Photographs featuring twins Minal and Aiman Muneeb were unveiled, showcasing their radiant happiness.
The glowing mom-to-be posed for pictures alongside her family and friends, all of whom gathered to commemorate this special occasion.
It appears to have been a truly remarkable event that transcended age barriers, with everyone eagerly anticipating the arrival of Minal's baby.
Minal also took some individual shots, looking absolutely lovely, and the stunning cake added to the overall charm of the celebration.
Images of the decorations were shared, emphasizing the delightful ambiance of the occasion.
In conclusion, we extend our warmest wishes to Minal as she embarks on her journey into motherhood, hoping for her abundant health and happiness!