Republican US House Speaker Kevin McCarthy was elected, but at a price.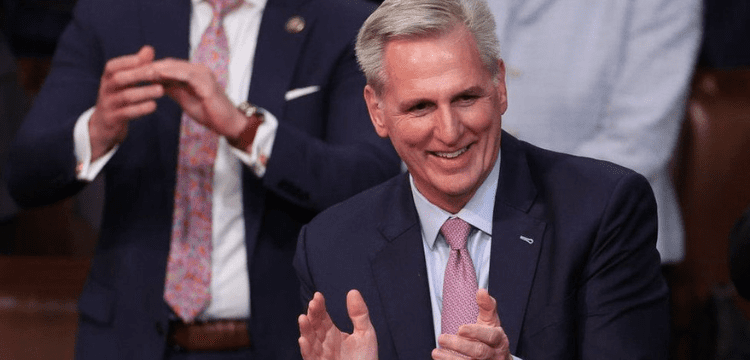 WASHINGTON:
Republican Kevin McCarthy was elected speaker of the US House of Representatives early on Saturday, after making extensive concessions to a group of right-wing hardliners that raised questions about the party's ability to govern.
The 57-year-old Californian suffered one final humiliation when Representative Matt Gaetz withheld his vote on the 14th ballot as midnight approached, prompting a scuffle in which fellow Republican Mike Rogers had to be physically pulled away.
The most severe case of congressional dysfunction in more than 160 years came to an end with McCarthy's election on the fifteenth ballot. But it clearly demonstrated the challenges he will encounter in governing a small and strongly divided majority.
Finally, he prevailed by a score of 216-212. Six members of his own party withheld their votes, not supporting McCarthy as leader but also not voting for another candidate, which allowed him to win with the support of less than half of the House members.
McCarthy symbolised the end of President Joe Biden's Democrats' control of both chambers of Congress as he first received the gavel. "Our system is built on checks and balances. It's time for us to be a check and provide some balance to the president's policies," McCarthy said in his inaugural speech, which laid out a wide range of priorities from cutting spending to immigration, to fighting culture war battles.
McCarthy secured the gavel only after agreeing to a demand by hardliners that any lawmaker be able call for his removal at any time. That will sharply cut the power he will hold when trying to pass legislation on critical issues including funding the government, addressing the nation's looming debt ceiling and other crises that may arise.
Republicans' weaker-than-expected performance in November's midterm elections left them with a narrow 222-212 majority, which has given outsized power to the right-wing hardliners who have opposed McCarthy's leadership.
These compromises, which include significant expenditure reductions and other restraints on McCarthy's leadership, may portend more upheaval in the months to come, particularly since Congress will have to approve an increase in the United States' $31.4 trillion borrowing limit.
Republicans have attempted to force significant spending cuts over the course of the last ten years by periodically shutting down huge portions of the government and bringing the biggest borrower in history dangerously close to default.
The readiness of McCarthy to play such a dangerous game of cat-and-mouse with President Joe Biden, whose Democrats control the Senate, has been questioned by a number of the hardliners. When Mitch McConnell's Senate Republicans agreed to compromise agreements in the past, they raged.
The hardliners, also including Freedom Caucus Chairman Scott Perry and Chip Roy of Texas, said concessions they extracted from McCarthy will make it easier to pursue such tactics this year – or force another vote on McCarthy's leadership if he does not live up to their expectations.
"You have changes in how we're going to spend and allocate money that are going to be historic," said Representative Scott Perry, the chairman of the hard-right House Freedom Caucus.
"We don't want clean debt ceilings to just go through and just keep paying the bill without some counteracting effort to control spending when the Democrats control the White House and control the Senate." One of those Democrats, Senate Majority Leader Chuck Schumer, warned that the concessions McCarthy made to win the job may come back to haunt him.
"Kevin McCarthy's concessions to the extremists in his party make it far more likely that the MAGA Republican controlled House will cause a government shutdown or a default with devastating consequences to our country," Schumer said in a statement.
In stark contrast to the House Republican fights this week, Biden and McConnell appeared in Kentucky on Wednesday to promote infrastructure spending.
The day after the two-year anniversary of the attack on the US Capitol on January 6, 2021, when a violent crowd invaded Congress in an effort to overturn then-President Donald Trump's electoral loss, McCarthy finally won.
The 14 unsuccessful votes this week were the most for the speakership since 1859, during the stormy years leading up to the Civil War. McCarthy's 2015 attempt to become speaker failed in the face of right-wing opposition. John Boehner and Paul Ryan, the two former Republican speakers, resigned from their positions following disagreements with right-wing colleagues.
McCarthy now holds the authority to block Biden's legislative agenda, force votes for Republican priorities on the economy, energy and immigration and move forward with investigations of Biden, his administration and his family.
But McCarthy has agreed to concessions that mean he will hold considerably less power than his predecessor, Democrat Nancy Pelosi. That will make it hard for him to agree to deals with Democrats in a divided Washington.
Allowing a single member to call for a vote to remove the speaker will give hardliners extraordinary leverage. The agreement would cap spending for the next fiscal year at last year's levels – amounting to a significant cut when inflation and population growth are taken into account.
That may encounter opposition from more moderate Republicans or those who have advocated for increased military spending, especially given that the US is now aiding Ukraine's defence against a Russian invasion.
Republican Brian Fitzpatrick, a moderate, said he wasn't concerned that hardliners would effectively dominate the House. He told reporters, "It's aspirational." "Our voting cards are still here."