NYPD officer is buried with full respects.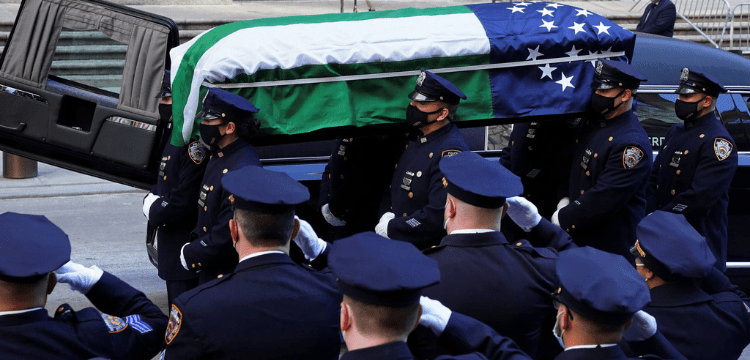 WASHINGTON: Several hundred friends, family members, and law enforcement colleagues attended Pakistani-American Officer Adeed Fayaz's burial on Thursday at the Makki Masjid Muslim Community Center in New York.
In an attempted robbery last week in Brooklyn, New York, 26-year-old Adeed was shot and died. He was a married father of two small children. To purchase a car with cash, he had travelled there with his brother-in-law. Randy Jones, the suspected robber, shot Fayaz in the head as he resisted trying to take the money.
Fayaz was not on duty when he was attacked, but the New York Police Department (NYPD) honoured him in the same way that they would an officer who died in the line of duty. The police ambulance was made space for by a motorbike escort.
As the procession travelled to the location of the service, highways were closed. Thousands of police officers from the tri-state area stood at attention and saluted the casket as they carried his body out into the cold. The neighbourhood was covered by heli­copters. The streets nearby and Coney Island Avenue, also referred to as "Mini Pakistan," were both closed to traffic. Officer Fayaz was laid to rest at the cemetery of Pinelawn Memorial Park.
In addition to thanking the NYPD for recognising his son, Sadaqat Fayaz urged the government to "consider outlawing guns," saying that doing so "may save lives." The prayers at the funeral were led by Allama Maqsood Ahmed Qadri, an imam from New Jersey. The Muslim police chaplain for New York, Imam Tahir Kukaj, prayed for the soul of the deceased as well.
Numerous Pakistani Americans attended the funeral in Brooklyn's mosque, many of them in tears. The officer's mother sobbed while the officer's wife held an American flag. In court on Wednesday, the alleged murderer was charged with murder and told to remain in custody without bail.