Cambodian casino fire kills 19 people, death toll rises.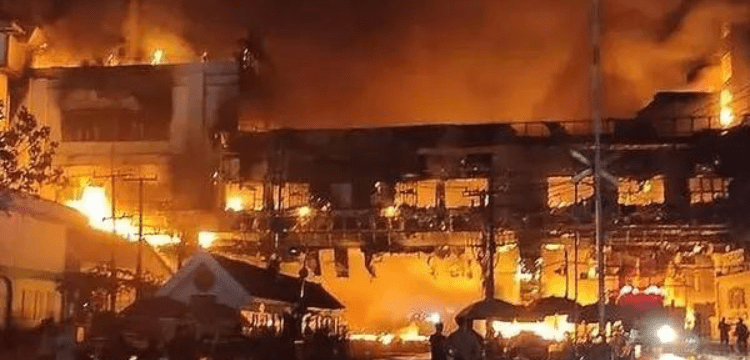 Officials reported on Thursday that a massive fire had destroyed a casino-hotel complex in a Cambodian town near the Thai border, killing at least 19 people and leaving up to 30 people missing.
Around midnight, a fire broke out in the Grand Diamond City casino and hotel in Poipet, affecting 400 personnel and guests. Up to 30 people are still unaccounted for.
Sek Sokhom, the director of the provincial information office for Banteay Meanchey, stated that "the number of deaths may reach more than 20." He said that sixty persons had been hurt.
A crew in the building's fire escape stairs was seen in video footage putting on respirator masks and fire-resistant hoods before entering a smoke-filled corridor on Thursday afternoon, when the fire had been put out.
A representative for the interior ministry, Khieu Sopheak, had earlier stated that it was unclear how many individuals were still present inside the burnt-out structure. Adding that the source of the fire was yet unknown, he stated, "We don't know how many are trapped inside and for now we are simply trying to save lives."
Casinos in the capital city of Phnom Penh and on the borders with Vietnam and Thailand are a major magnet for tourists from Asian countries that forbid gambling and are crucial to the country's economy.
Since gambling is prohibited in Poipet's neighbouring country and unlicensed casinos operate there clandestinely, casinos there are especially popular with short-term Thai visitors.
According to Thai authorities, at least 25 people were receiving medical care in hospitals in the province of Sa Kaeo across the border.
According to provincial authorities, 70% of those afflicted displayed symptoms of smoke inhalation, and one Thai national passed away at a hospital.
Hundreds of personnel from the military, police, and rescue teams, according to the Cambodian police, have joined the rescue operation. Night-time video footage revealed massive billows of smoke and flames devouring portions of the skyscraper.
It also featured images of customers swarming around firefighters at a rooftop pub in broad daylight while protecting their lips from smoke coming from lower-floor doors and windows.