Today's Weather Update In Islamabad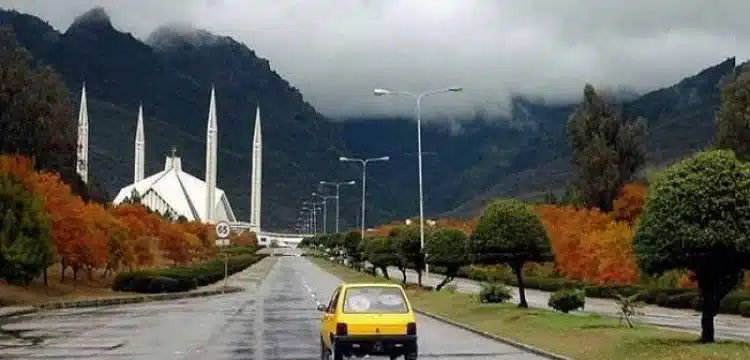 Expect warm and humid conditions in Pakistan's federal capital, Islamabad, this Saturday.
Rain Forecast for Islamabad
Given the current muggy climate in the city, the Pakistan Meteorological Department (PMD) anticipates rain, accompanied by gusty winds and thundershowers. Some areas might even experience heavy rainfall during this timeframe.
Temperature in Islamabad Today
Yesterday, the temperature in Islamabad was projected to range from 32°C to 34°C. The sky was overcast, and there was a gentle breeze blowing at around 10km/h, providing a visibility of 16km.
Read more : NHA Raises Toll Charges for Lahore-Islamabad Motorway
Air Quality Index in Islamabad
The air quality index for Islamabad measured at 19, indicating a "good" rating. This means that the air quality is suitable for most outdoor activities and poses no major health risks.
Weather Pattern Overview
Monsoon currents originating from the Arabian Sea and the Bay of Bengal are making their way into the northern parts of the country. Simultaneously, a westerly wave is beginning to influence the upper and central regions.
Monsoon Update for Pakistan
Anticipate rain, gusty winds, and thundershowers in the Potohar region, Islamabad, upper Punjab, northeastern Balochistan, Khyber Pakhtunkhwa, Gilgit Baltistan, and Kashmir. Meanwhile, other areas of the country are likely to experience hot and humid weather conditions.