Twitter users criticizes Naseem Shah on Azam Khan's body shaming in BPL.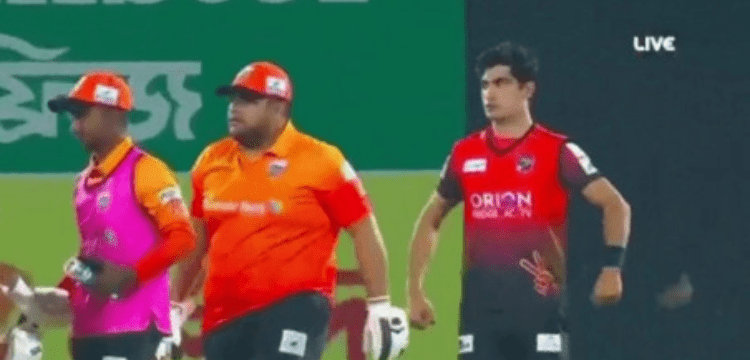 Even in 2023, individuals still find it difficult to comprehend that a person's body type does not necessarily reflect their level of health. Cricket player Azam Shah has grown accustomed to being judged more on the basis of his physical appearance than his skill on the field. However, Pakistani Twitter defended Khan after pacer Naseem Shah 'teased' him by mimicking his body form during a game.
On camera, Khan shoved Shah away following an argument during a Bangladesh Premier League game between the Khulna Tigers and the Comilla Victorians. The footage has been making the rounds on social media. Shah then followed Khan, imitating his unobservant gait by raising his arms. What the 19-year-old bowler may have found humorous, however, was labelled "body shaming" by online users.
That is not "teasing"! That is #Bullying!#NaseemShah #BPL2023 https://t.co/az5ThV4nY8

— Hussain Maqbool Ahmed (@HMAKhuwaja) January 31, 2023
Stop criticising Naseem Shah over this; he is a friend of Azam Khan. He did as a friend. Both were laughing. Stop making an issue if Azam khan comes and say something about it. Then it's different #BPL pic.twitter.com/TADPKllUt5

— Shaharyar Ejaz 🏏 (@SharyOfficial) January 31, 2023
this how these youngster's downfall begins. you should be in your limits while on field. @iNaseemShah baray hojaoo bhai https://t.co/FFQwAhd15q

— Faraz 💥 (@Farazasghar1993) February 1, 2023
Classless jerk mocking him for his size behind his back.. https://t.co/MEymIvfLel

— Norbert Almeida "bruh" (@norbalm) February 1, 2023
Naseem Shah teasing Azam Khan at the Bangladesh Premier League #BPL2023 #Cricket pic.twitter.com/IsJgBLcE0i

— Saj Sadiq (@SajSadiqCricket) January 31, 2023