Sania Mirza left teary-eyed during emotional farewell speech.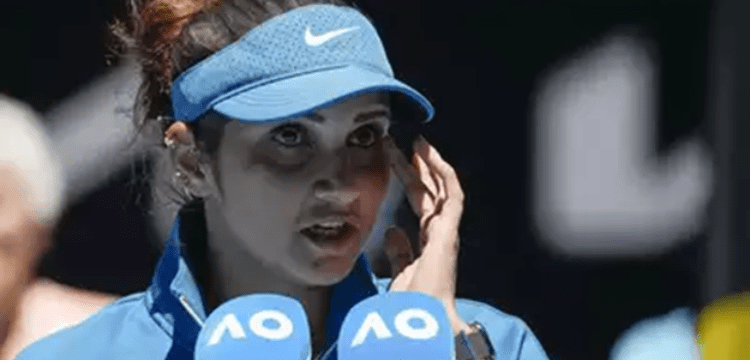 Sania Mirza's Grand Slam career appeared poised for a fairytale conclusion. The Indian duo, who had joined Rohan Bopanna as an unseeded pair for the Australian Open's 'Last Dance,' persevered to reach the championship match at Rod Laver Arena on Friday but were defeated by Luisa Stefani and Rafael Mataos of Brazil, 6-7(2), 2-6, preventing them from winning the elusive mixed doubles trophy. Sania shed a few tears during her moving farewell statement after the match, but more so because of the departure than the defeat.
Sania ought to have been watching the final from home if everything had gone as she had anticipated when she had planned it at Melbourne Park the previous year. Prior to announcing earlier this month that she would complete her career at the WTA 1000 Dubai event in February, making the 2023 Australian Open her final Grand Slam competition, an injury in August forced her to modify her plans.
And it many ways, it does seem to be the most fitting venue for Sania to say goodbye to her impressive Grand Slam career. It was at the Melbourne Park that Sania had begun her major career, against the legendary Serena Williams, in 2005. And it was at the Rod Laver Arena, four years later, where she won her first Grand Slam trophy, alongside Mahesh Bhupathi.
"If I weep, they will be joyful tears. I don't want to steal Matos-thunder, Stefani's as they have earned it. Even though I still have a few tournaments left to play in, my career officially began in Melbourne in 2005 when I faced off against Serena as an 18-year-old. I've had the honour of returning here repeatedly to play in fantastic finals and win championships. Life has been so great because of Rod Laver Arena. Sania, who concluded her career with six majors, including three women's doubles and as many mixed doubles titles, stated, "I couldn't think of a greater arena to finish my last Grand Slam."
"Like Rohan said, he was my first ever mixed doubles partner when I was 14 and we won the nationals. It wasn't a same arena like this one. But that was 22 years ago. And I couldn't think of a better partner, he is one of my best friends and best partner to finish my career with. Obviously we couldn't get over the line but there is no better person for me to finish my Grand Slam career with. Thank you, Rohan," she added.