Babar Azam wins Sir Garfield sobers trophy for ICC cricketer of the year.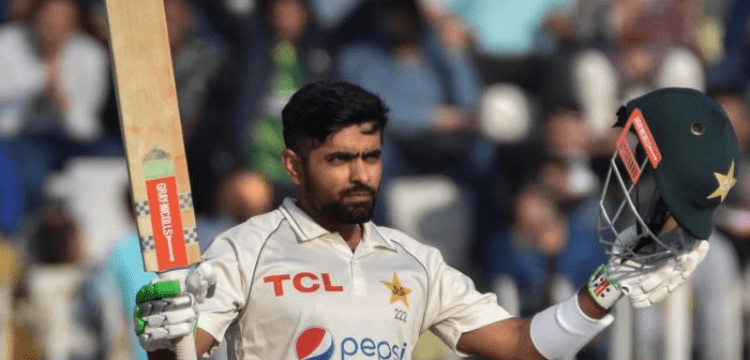 The winner of the Sir Garfield Sobers Trophy for ICC Men's Cricketer of the Year had a memorable year in 2022. Pakistan skipper Babar Azam.
8 century and 15 half-centuries are part of 2598 runs in 44 games at an average of 54.12 runs per match. Babar Azam, Pakistan's inspired captain, continued to raise the bar for himself in 2022, breaking more personal records while making sure Pakistan's star shone brightly.
Babar blew beyond that milestone while accumulating a huge 2598 runs at an intimidating average of 54.12. He was the only player to surpass the 2000-run barrier throughout the calendar year across all formats. It's clear that the powerful right-hander is at the top of his form right now. Babar's collection of eight hundreds and 17 fifties throughout the calendar year was his highest of his career to date.
"I consider it a privilege to receive this honour. I'm now a part of a coveted list of legends who have received this honour, and I can't even put into words how happy I am about it," Azam remarked. Since they have consistently backed me, my family, teammates, and supporters deserve credit for this award, he continued.
The 50-over format was ruled by the 2021 ICC Men's ODI Player of the Year, who amassed 679 runs in nine games. His consistency is demonstrated by the fact that he recorded scores of 50 or more in eight of those innings. It came as no surprise that the 28-year-old was named the ICC Men's ODI Player of the Year for a second consecutive year given that he continues to occupy the top rank in the MRF Tyres ICC Men's ODI Player Rankings.
Babar also had a fantastic year in Test cricket, despite the fact that his team's results weren't always favourable. In the lengthier format, he carried out the majority of the hard lifting for Pakistan, scoring 1184 runs in just nine games.
Babar expressed his gratitude to the ICC for the honour and promised to keep up his performance in the future. "This award gives me confidence, and I'll endeavour to keep performing well in the future," I said after receiving it. I also want to express my gratitude to the ICC for selecting me to receive this honour," he stated.
Babar's year as captain in the white-ball formats was especially noteworthy because Pakistan won all three ODI series they participated in, dropping just one game out of nine to Australia. He guided Pakistan to their first Men's T20 World Cup final since 2009 in the T20I format, when Babar's team had placed second to eventual victors England.