SC Delays Hearing on Toshakhana Case Till IHC's Decision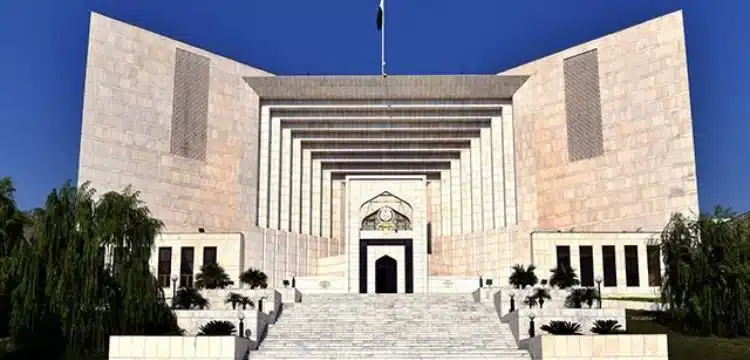 The Supreme Court said on Wednesday, while hearing appeals filed by the PTI chairman in the Toshakhana case, that the trial court decision appeared to have flaws, but that the apex court will await the Islamabad High Court's decision on the appeal. 
The appeals hearing has been postponed till tomorrow (Thursday) by the Supreme Court. The Chief Justice of Pakistan (CJP), Umar Ata Bandial, stated that the court would wait for the IHC's decision before 'interfering' in the case. "Prima facie, there are shortcomings in the trial court verdict," the highest judge stated. 
On August 5, an Islamabad trial court convicted the PTI president guilty of 'corrupt activities' in a case involving concealing the specifics of official gifts and sentenced him to three years in prison. The verdict also implies that he will be ineligible to run in general elections for the next five years. 
Also Read: Supreme Court Declares 2023 Review Act Unconstitutional
Following that, the PTI head appealed the judgement to the IHC. The case had been delayed by the high court a day earlier until August 24. 
The case was heard by a three-member SC bench consisting of CJP Bandial, Justice Mazahar Ali Akbar Naqvi, and Justice Jamal Khan Mandokhail.
During the sessions, PTI lawyer Latif Khosa and Election Commission of Pakistan (ECP) attorney Amjad Pervaiz pushed arguments. 
Following hearing both parties, the CJP stated, "The Court would not intervene in the Toshakhana case today… We will review the IHC hearing tomorrow (Thursday) before proceeding." The CJP observed that the trial court judge in the Toshakhana case had issued the decision in haste.
At the outset of the hearing, PTI chief's lawyer Latif Khosa said his client had filed three petitions against the IHC orders in the apex court. 
Advocate Khosa prayed to the court that his client had been accused of misdeclaration of his assets. On the query of Justice Naqvi, Khosa read Section 137 and sub-section 4 of the Election Act, 2017.