Rupee Gains Strength Against Dollar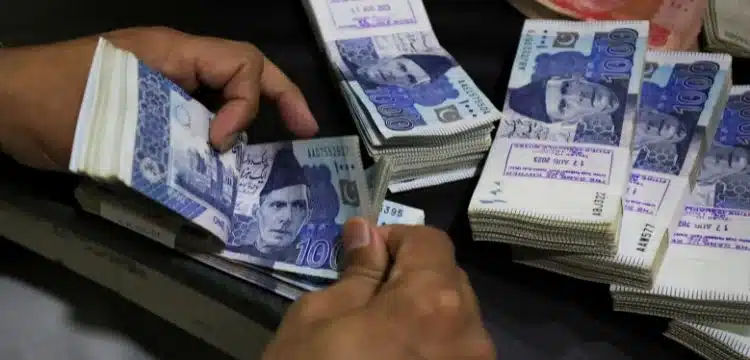 Today, the Pakistani rupee started strong against the US Dollar, opening at 296 in the interbank market. By noon, it had surged to 294, marking a gain of approximately Rs. 2 compared to the dollar. Subsequently, between 1:30 PM and 2:30 PM, the interbank rate eased to 295 before stabilizing for the rest of the day.
In contrast to the rates seen on Monday, which ranged from 338 to 335 in the open market, today's open market rates across various currency counters fell within the 294-298 range. This signifies a substantial recovery of approximately Rs. 44 against the US Dollar since September 4. The day concluded with the PKR appreciating by 0.3 percent, closing at 295.94, having gained 90 paisas against the dollar.
Also Read: Gold Rate In Pakistan Today: Latest Tola Prices
The markets displayed positive growth in the new week, disregarding the previous week's sharp increase in petrol prices to Rs. 331.38 and high-speed diesel prices to Rs. 329.18.
Notably, the gap between interbank and open market rates has significantly diminished by around Rs. 44 in September. From a reported rate of 337 last Monday, rates have fluctuated, ranging from 294 to 299 today.
It's worth mentioning that the rupee has depreciated by nearly Rs. 75 since January 2023 and by over Rs. 122 against the US Dollar since April 2022. However, based on today's exchange rate movements, the PKR gained over 90 paisas against the dollar.
In a significant development, Pakistan's Real Effective Exchange Rate (REER) decreased by 1.5 percentage points to 90.1 in August 2023. This REER value suggests that exports are currently offering favorable returns. The federal government removed all import restrictions three months ago, and it will take some time for manufacturers to normalize production and boost exports.
In the interbank market today, the PKR also performed well against other major currencies, gaining 24 paisas against the Saudi Riyal (SAR), 24 paisas against the UAE Dirham (AED), 69 paisas against the Canadian Dollar (CAD), Rs. 2.52 against the British Pound (GBP), and 75 paisas against the Euro (EUR). Furthermore, it gained Rs. 1.24 against the Australian Dollar (AUD) in today's interbank currency market.