President And PM Convey Special Eid Milad-Un-Nabi Message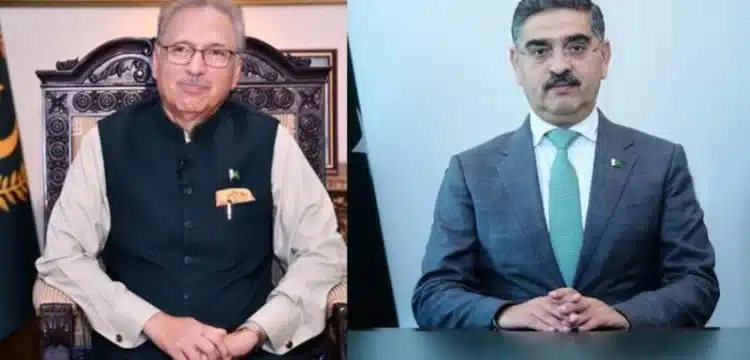 "In Islamabad, President Dr. Arif Alvi and Caretaker Prime Minister Anwaarul Haq conveyed their special messages on Eid Miladun Nabi, urging the public to emulate the teachings of Prophet Muhammad (Peace Be Upon Him).
President Alvi regarded the birth of Prophet Muhammad (PBUH) as a momentous and blessed occasion for the entire world. He emphasized that the Prophet's teachings provide divine guidance and mercy from Allah Almighty and serve as a source of enlightenment for all of humanity. These teachings, he explained, offer timeless solutions to countless challenges faced by humanity.
Read more : Pakistan Marks Eid Milad-Un-Nabi With Religious Fervor
President Alvi stressed that Prophet Muhammad's teachings reflect the comprehensive and universal nature of Islam's message. He highlighted Pakistan's cultural and religious diversity, calling for the promotion of unity and better understanding among its citizens.
Interim Prime Minister Anwaarul Haq Kakar underscored the importance of following the Holy Prophet's (PBUH) teachings of brotherhood, compassion, and unity to exemplify tolerance and coexistence. He noted that Muslims are fortunate to follow the Holy Prophet, who embodies qualities worth emulating. He called on Pakistan to turn to the teachings of Prophet Muhammad, especially during the country's current challenges.
Prime Minister Kakar viewed Eid Miladun Nabi as an opportunity to renew the commitment to incorporate the values of the Holy Prophet into personal lives. He prayed for Pakistan to become a hub of peace, progress, and brotherhood, with its citizens collectively and individually following the teachings of the Holy Prophet."