PPP, PTI workers clash outside DC office in Kemari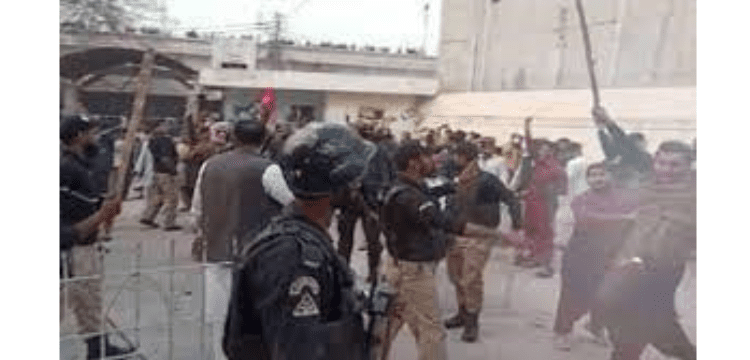 On Sunday, the second phase of local government elections in Sindh was held in 16 districts. However, major contesting parties, including the ruling PPP, expressed concern about the unusually long delay in Karachi results and blamed the Election Commission of Pakistan (ECP) for mismanagement.
The ECP took more than 36 hours to announce the results of Karachi's 236 union committees, as the opposition PTI and Jamaat-i-Islami (JI) accused the provincial government of "rigging and managing things" in its favour.
On Wednesday, the PTI accused the PPP of attacking its employees, while the Keamari DC claimed that PTI workers forced their way into the office and harassed employees. DC Keamari The district returning officer, Mukhtiar Abro, told Dawn.com that the PTI workers had "encircled" his office.
He claimed that Ali Haider Zaidi and others from the PTI forcibly entered the premises and broke the locks. "The PTI workers ransacked the computer and harassed staff, including female returning officers who were busy doing their jobs," he said. He also claimed that PTI workers threw stones and shattered the windows of several vehicles. He claimed that police intervened in the hooliganism and removed the party workers from the DC office.
Abro stated that a preliminary information report would be filed against PTI leaders and employees in connection with the incident. According to a handout issued by the Keamari police, SSP Fida Hussain Janwari arrived on the scene and brought the situation under control.
According to the statement, district police arrived on the scene armed with water cannons and other emergency equipment to deal with any emergency situation. It went on to say that the situation was now under control and that all political workers had been dispersed. Separately, Talha Hashmi, the bureau chief of Dunya News in Karachi, told Dawn.com that a reporter and a cameraman were injured during the clash.