Imran requests that volunteers sign up for "Jail Bharo Tehreek"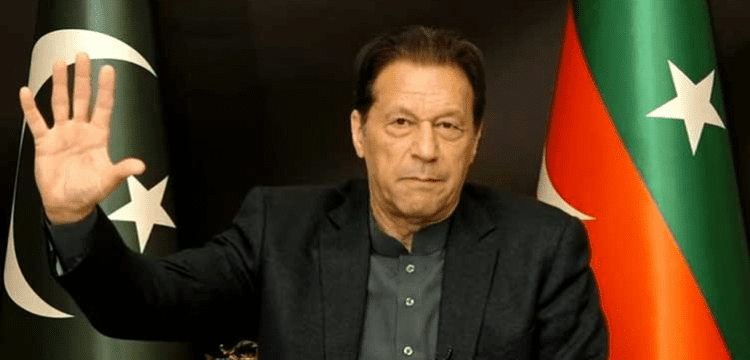 On Monday, former prime minister Imran Khan urged PTI members to sign up with their local district presidents for the "Jail Bharo Tehreek" (court arrest drive), promising to start the action in the coming days.
Imran had reportedly run out of ways to get the PML-N-led government to hold elections in the two provinces of Punjab and Khyber Pakhtunkhwa and stop it from "political victimisation" when he announced the initiative last week.
"Now we have two options. One is to travel by car and cause a traffic congestion, but this will harm Pakistan's economy. The alternative is to allow the Jail Bharo Tehreek to carry out this imported government's wish to imprison us, the PTI leader stated during a televised address from his home in Lahore's Zaman neighbourhood.
Imran urged volunteers to step forward in a video speech that was made today and stated that he wants the PTI district presidents to start the registration process. I need volunteers to sign up first, he said. Then I'll announce a time in a few days when we'll start the "Jail Bharo Tehreek."
Imran urged the people to join the movement at the same time, describing it as a "peaceful protest." You are engaged in jihad; you are not engaging in politics.  The campaign, according to the PTI leader, would also contribute in establishing "haqeeqi democracy" (true democracy), which would uphold the rule of law. Only this, he said, would be able to rescue the nation from its current predicament.
Imran emphasised in his speech that it was against the Constitution for the governors of Punjab and Khyber Pakhtunkhwa, as well as the Election Commission of Pakistan (ECP), to have not yet announced a date for provincial elections.
"The Constitution is unambiguous about the enforcement of Article 6 against the offenders if they extend the 90-day limit [for announcing polls]," he added, adding that the public was looking to the judiciary for justice.
Imran also gave a justification for the PTI's choice to establish the "Jail Bharo Tehreek." Nations are governed in accordance with the law throughout the entire world, he remarked. "What is legal and what is illegal is determined by the Constitution." The PTI leader blasted the "imported" coalition government for treating the Constitution and the law like a joke ever since it took office.
He said that the police and the government were blatantly disobeying the court's orders. The government had been instructed by the court to hold local government polls in Islamabad but they are yet to a date.