Denied Bajwa's offer to become PM in 2018, claims Shehbaz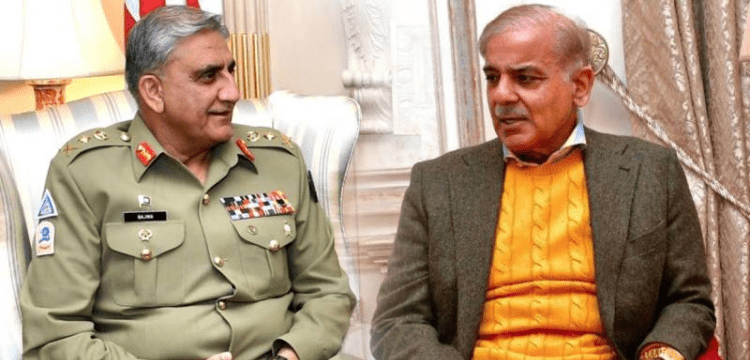 Former army chief General (retd) Qamar Javed Bajwa attempted to broker an agreement with Pakistan Muslim League-Nawaz (PML-N) president Shehbaz Sharif in exchange for the prime ministership in 2018—an offer the incumbent prime minister now admits and claims he flatly refused.
Shehbaz made the revelation in an interview with a local TV channel on Tuesday, stating that former spy chief General (retd) Naveed Mukhtar and senior military commander General (retd) Faiz Hameed were also present during the offer meeting.
Shehbaz stated that he declined the offer since Pakistan's interests were vital to him.
"I said Nawaz Sharif is my elder brother and leader. Disagreements are the beauty of politics. I only give him my point of view," Shehbaz said while answering the question about his response to the then-army chief's offer.
"But if someone thinks that I would choose to become prime minister by stabbing my brother in the back, then I'd sacrifice such a premiership 10 times."
This is the first time that PM Shehbaz Sharif has spoken about any deal being offered to him from Gen (retd) Bajwa or other members of the military establishment. His statement comes amid renewed conversation around the alleged role of the military establishment in Pakistan's politics.
Critics of ousted prime minister Imran Khan – including the ruling PML-N and its allies – allege that his Pakistan Tehreek-e-Insaf (PTI) party was "brought into power" following the 2018 general elections with help from those at the helm of the country's most powerful institutions—the military and judiciary.
But, since he was ousted from power through a parliamentary vote of a no-confidence in April 2022, the PTI chairman has grown increasingly critical of the former military chief, accusing him of "stabbing him in the back" and leading a conspricy to topple his government.
Imran demanded a court martial for Gen (retd) Bajwa earlier this month after he delivered a speech critical of Russia.
"General [retd] Bajwa stabbed me in the back," Imran explained. "Gen [retd] Bajwa delivered a speech against Russia […] He should face court martial for his remarks."
The former prime minister has also requested President Dr Arif Alvi to launch an investigation into the former army chief, accusing him of breaking his oath by intervening in politics and dominating the country's anti-graft organisation, among other things.
Also Read: Bajwa and Faiz supported Imran up till their retirements: Sanaullah Rana
Several politicians have recently attacked Gen (retd) Bajwa and former spymaster Faiz Hameed, but experts say they are only "cheerleaders" because any meaningful action was related to the military's approval.
Keeping the civilian side's limitations in view, political experts say, perhaps, that is the reason why Prime Minister Shehbaz Sharif has neither formally asked the defence minister to proceed against them nor barred his party officials from speaking against the former military men.
If the past experience is of any guidance, they say, the PML-N won't really venture into that alley, rather it would prefer to keep things limited to the extent that suits its political narrative.
"They burnt their fingers when they tried [former military ruler] Parvez Musharraf," renowned political expert Zaigham Khan said. It stoked tension with the establishment that resulted in serious problems for PML-N supremo Nawaz Sharif, he added.
The PML-N had long been assailing Lt-Gen (retd) Faiz Hameed since the days he was the director-general of the country's premier agency, the Inter-Services Intelligence (ISI). Recently, PML-N Senior Vice President Maryam Nawaz also called for his court martial.
The military is part of the executive, headed by the prime minister, Zaigham Khan said. "If they [the ruling coalition] are serious, the prime minister could instruct the defence minister in this regard," he added.
Instead, Zaigham Khan believed, the ruling coalition would use this talk as a political narrative, mainly to malign Imran Khan and keep demanding of the military to initiate the court martial.