Weekly inflation is still very high.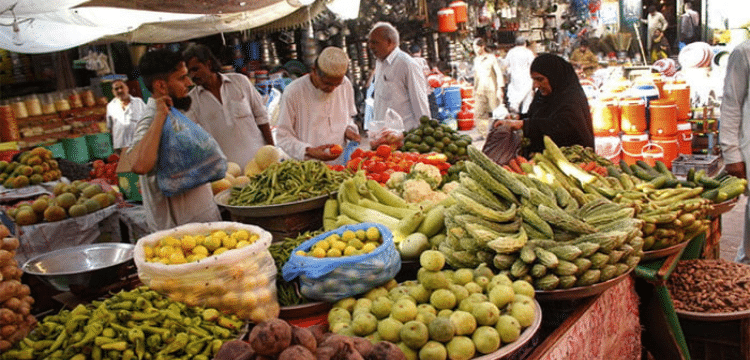 ISLAMABAD: According to official figures released on Friday, weekly inflation remained high compared to a year earlier, led by high costs for onions, chicken, eggs, diesel, and gasoline. Sensitive Price Indicator (SPI) data showed that short-term inflation was 34.83 percent year over year during the week ending on February 9.
The most expensive items were onions (up 508 percent), chicken (93.2 percent), diesel (81.4 percent), eggs (79.2 percent), Irri-6/9 rice (68.3 percent), broken basmati rice (66.3 percent), tea (63.9 percent), bananas (61.9 percent), gramme pulse (56.8 percent), bread (50.7 percent), LPG (50.4 percent), mash pulse (50.3 percent), and powdered salt (46.5pc). For the first quintile, tomatoes (-57.8%), powdered chilies (-12.4%), and power costs (-12.3%) had the largest price drops.
Since the week of September 15, 2022, when the SPI inflation rate was 40.6pc, the overall price increase of 34.83pc represents the biggest annual increase. Although short-term inflation reduced to 0.17 percent during the week from the prior measurement of 2.82 percent, the week-over-week shift in prices revealed otherwise.
The SPI is calculated once a week to track changes in the cost of necessities at more frequent intervals. Based on a survey of 50 markets across 17 cities, the index keeps track of the costs of 51 different items. 29 goods saw price increases compared to the prior week, five items saw price decreases, and 17 items had unchanged pricing.
The prices of potatoes rose by 7.2 percent, chicken by 6.9 percent, bananas by 6.5 percent, 1 kg of vegetable ghee by 5.7 percent, broken basmati rice by 3.8 percent, Irri-6/9 rice by 3.64 percent, 2.5 kg of vegetable ghee by 2.71 percent, and 5 kg of cooking oil by 2.6 percent (2.42pc). Garlic, moong pulse, and mustard oil all saw 2.2 percent price increases. The five commodities whose prices decreased from the prior week were sugar (-2.7%), wheat flour (-2.7%), tomatoes (-5.4%), eggs (-3.4%), and onions (-9.8%) (-0.31pc).