Threatening to leave the coalition government over a delimitation disagreement is MQM-P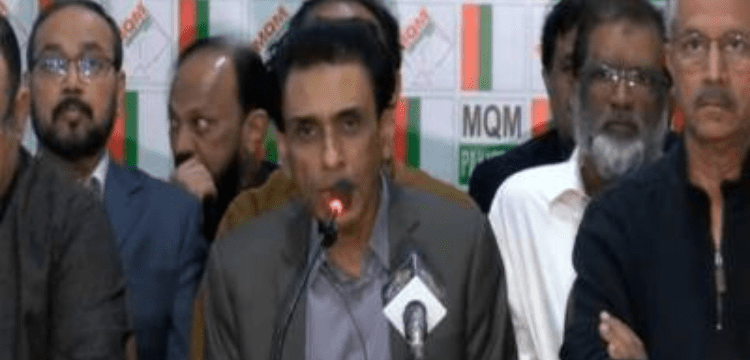 Maqbool claims that if the Karachi Local Body elections are held without new constituency delineations, the MQM-P will leave the coalition.
Due to differences with the PPP on the delineation of constituencies in Hyderabad and Karachi, the MQM-Pakistan has threatened to leave the coalition government at the Centre, which is led by the PML-N.
Senior MQM-P leader Khalid Maqbool Siddiqui declared at a press conference on Sunday in Karachi that his party will leave the coalition government if local body elections were held without new constituency delineations.
"We received information through the media that the local body elections are going to be held on January 15. We are not officially an ally of the PPP, but we entered into an agreement with the PPP related to the Sindh," he added.
Maqbool said that his party was ready to contest the LB polls if they were held in a fair and transparent manner.
"The delimitations of the constituencies are controversial. Dozens of meetings have been held with the leaders of the PPP in which we demanded them to immediately change constituencies of Karachi and Hyderabad."
While demanding the Election Commission of Pakistan to carry out fresh delimitations, Maqbool highlighted the pre-poll rigging attempt saying that union councils under the influence of MQM consist of 90,000 population while other UCs were created based on 20,000 to 25,000 people.
"If the constituencies are not fixed then we will take to the streets and stage protests. It is up to the workers to decide whether to fight while staying in the government and or protest after leaving the government," the MQM leader remarked.
His statement came a day after Foreign Minister and PPP Chairman Bilawal Bhutto Zardari expressed optimism that a jiyala – a term politically associated with PPP stalwarts – would become mayor of Karachi in the next month's local body elections due to the performance of the Karachi Metropolitan Corporation (KMC) and hard work of party workers.
"That jiyala is even present in this gathering… we have delivered on our promises and never took a U-turn," he said on Saturday while addressing party workers in Karachi.
Despite speculations that the second round of Sindh's local government elections may be delayed again again, Bilawal declared that the elections would take place on January 15 as scheduled since voters were tired of the delays.
"Their wait is now over because Karachi will have municipal elections on January 15, 2023,"