The president requests a national energy conservation strategy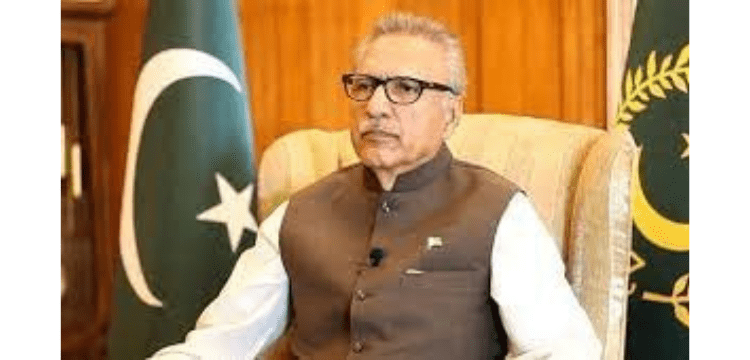 Dr Alvi emphasised the need for carrying out the electricity, gas and water audits of all public sector buildings
ISLAMABAD: President Dr. Arif Alvi urged on Thursday for the implementation of a nationwide, all-encompassing, consensus-based strategy for energy, gas, and water conservation in order to preserve valuable national resources and redirect them for the welfare and prosperity of the populace.
The president, during a meeting on energy conservation at Aiwan-e-Sadr, underscored that a comprehensive policy and programme should be prepared after consulting all stakeholders, including the provinces, besides launching an awareness campaign across the country to conserve electricity, gas, and water.
The president said that there is a need to generate out-of-the-box ideas, absorb creative ideas, benchmark best practices around the world, develop policies and strategies around them and ensure their implementation on a timeline basis to achieve the desired objectives in the shortest possible timeframe. "Pakistan can make rapid and accelerated progress in all sectors provided it enhanced and accelerated the implementation speed on initiatives of national importance, following a strict timeline while maintaining quality and ensuring desired outputs and outcomes", he observed.
Despite the wealth of resources, President Alvi insisted that the Islamic teachings placed a strong emphasis on resource conservation. He claimed that even if one was taking an ablution by a river, the teachings of the Quran and Hadith emphasised water conservation. He urged us to adopt the revered Islamic principles in order to alter our attitudes and behaviours about the use of limited resources, like as water, gas, and energy.
The president added "a consensus should also be built among all the stakeholders including traders, businesspersons and representatives of the chambers of commerce and industries for determining the timing and procedure of closing the marketplaces, and businesses, especially in the evenings for energy conservation."
The president appreciated the idea to manage the cool load during summers which could be reduced substantially from approximately 12700 MW by eliminating the use of inefficient fans of 120 W and replacing them with efficient fans of 60-80 W.
He suggested the creation of a comprehensive building plan that would require the design and selection of construction materials for all homes, businesses, and other buildings in order to make them all cost- and energy-efficient. In order to maintain and conserve energy and water, President Alvi emphasised the importance of conducting electricity, gas, and water audits of all public sector facilities across the nation. These audits would help uncover appliances, switches, and behaviours that were wasting energy and water.
He underlined the importance of developing a comprehensive awareness campaign on the conservation of electricity, gas, and water, in consensus with all the stakeholders through conventional and social media products such as morning shows, programmes, dramas, sit-ins, talk shows etc, as well as mobile caller tones through PTA by all the cellular companies.
President expressed that this would create mass awareness and education among the general masses to preserve and conserve energy. The President also highlighted the importance of Ulemas and mosques in the awareness campaign saying that Wafaq ul Madaris should also be engaged in creating awareness through mosques and sermons.
The president quoted an example of the Green Presidency Initiative, which comprised of two parallel activities – Energy Conservation and Shifting towards Green Energy, which he said has reduced its energy consumption load by 42.5%, whereas the entire energy needs of the Presidency are met by its in-house 1MW Solar Power Plant installed through Corporation Social Responsibility Scheme without incurring any cost to the national exchequer. This, he said, has saved Rs. 152.3 million since its installation. In addition, the President's House followed stringent energy saving guidelines and replaced all inefficient appliances in accordance with the recommendations of the energy audit. He suggested that this approach be used as often as feasible in other public sector facilities.
Senator Mohammad Ishaq Dar, federal minister for finance and revenue; Khawaja Muhammad Asif, minister for defence; Sardar Ayaz Sadiq, minister for economic affairs; Syed Murtaza Mahmud, minister for industries and production; Engineer Khurram Dastgir Khan, federal minister for energy; Musadik Masood Malik, minister of state for petroleum; and senior members of the power, finance, and industries division; as well as the National Energy Efficiency and Conservation Authority (NEEC).